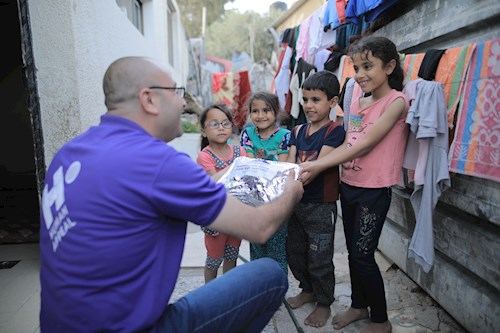 Ramadan is just less than one month away. Even, and especially, in these difficult times, it holds the opportunity for great blessings, as we make the most of our solitude to connect with our faith and share precious moments with our families.
Ramadan offers us grounding and certainty in these uncertain times. The blessings of of the holy month remain unchanged, as is our opportunity to receive blessings, mercy and forgiveness.
As the Prophet (PBUH) told us, "It is the month of patience, and the reward of patience is Heaven. It is the month of charity, and a month in which a believer's sustenance is increased. Whoever gives food to a fasting person to break his fast, shall have his sins forgiven, and he will be saved from the Fire of Hell, and he shall have the same reward as the fasting person, without his reward being diminished at all." (Ibn Khuzaymah)
So now is the time to say thank you for all your support. Last Ramadan, you helped us to provide iftar to over 43,000 people, and provided over 22,000 people with nutritious food parcels to last the whole month. You also provided 258 food parcels here in the UK, which supported vulnerable people who rely on food banks.
This year, Human Appeal be with you, from now, right up until the end of Ramadan, and beyond. We'll come to your TV screens in live appeals, you'll see our adverts, videos, appeals and webinars online, and, as always, we'll be working to support the most vulnerable people in every way that we can.
This Ramadan, you can count on us. We hope we can count on you too.