The UN is calling for an immediate truce in the besieged Syrian area of Eastern Ghouta, an enclave that is still held by rebel forces. According to the Syrian Observatory for Human Rights, more than 540 civilians have been killed since the campaign of aerial bombardment began on 18th February.
The conflict in Syria has been ongoing since 2011 and shows no sign of ending. The UN has described the war as the biggest humanitarian and refugee crisis of our time. Over the past 7 years, 6.1 million people have been internally displaced within Syria and 5.6 million have been forced to flee the country and become refugees in neighbouring states. A staggering 13.1 million people are in need desperate need of humanitarian assistance. Without immediate aid, they may not survive.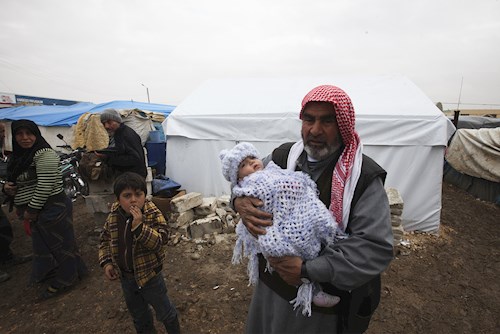 On Sunday, the UN Security Council said that all sides must stop fighting "without delay" for the next 30 days. The UN Secretary General Antonio Guterres described the situation in Eastern Ghouta as "hell on earth" as violence continues to devastate the region and claim the lives of innocent women and children. On Sunday, a suspected chlorine attack hospitalized 18 people and killed a small boy.
Despite the UN Security Council unanimously voting for a 30 day ceasefire in Eastern Ghouta, the bombing campaigns have continued.
Donate to our Syria Emergency Appeal
The situation in Eastern Ghouta is dire
The rebel-held enclave of Eastern Ghouta is situated close to Syria's capital of Damascus, and has been besieged by the Syrian military with support from foreign allies since 2013. Eastern Ghouta is home to 393,000 people and the effects of ongoing violence are becoming increasingly difficult for them to bear. 
Severe food shortages mean that a bundle of bread now costs 22 times the national average. Spiralling fuel costs mean that families are unable to prepare food effectively. They are reduced to burning rubbish and plastic bags just to keep from freezing. More than 12% of children under the age of 5 are now acutely malnourished. The siege on Ghouta is preventing essentials like food from entering the region, something that affects pregnant women and children the most severely. 
For the sick and wounded, essential medical equipment is in increasingly short supply. Innocent civilians are dying because they cannot be treated in time and bodies are lying unburied in the streets. Medics are struggling to work without electricity, antibiotics, medication for anaesthesia or painkillers. Violence and instability in Eastern Ghouta is leaving thousands of lives hanging in balance.
Human Appeal's work in Syria
Human Appeal has been distributing vital aid in Syria since the beginning of the crisis in 2011, despite the incredibly difficult and dangerous conditions.
Last year alone, we distributed 8,000 tonnes of flour to bakeries producing bread, reaching 1,664,000 people across Idleb, Hama and Aleppo. In total, we reached 2,082,370 people with our food assistance and food security projects.
We delivered projects funded by UNICEF to provide education to nearly 36,000 children in camps for internally displaced families. We also delivered healthcare and nutrition projects in Aleppo and Idlib to nearly 23,000 people.
We aimed to keep vulnerable families living in camps in northern Idlib safe and warm during the tough winter months, by carrying out a camp management project funded by UN OCHA that assisted more than 7,100 people.
In Eastern Ghouta, Human Appeal is working with local partners to distribute cooked meals and fresh bread to the affected population. Throughout the winter, we have provided food, shelter, fuel, clothing and blankets to vulnerable families across Syria, and we are now preparing to respond to the needs of newly displaced civilians.  
The people of Eastern Ghouta need your help
The shocking humanitarian crisis in Eastern Ghouta is ongoing, as violence continues to blight the region. Innocent families with young children are paying the highest price in this deadly conflict. Despite the ongoing violence, we will continue to provide lifesaving aid to meet the needs of besieged communities. However, we can only continue this vital work with your help. 
For just £100, you can provide a malnourished family with food, clean water and basic medical supplies. This can mean the difference between life and death for a Syrian family who has lost everything.
You can save a precious life today.