Human Appeal have announced a partnership with Hands On London for a campaign this winter called Wrap Up Manchester. Wrap Up Manchester will collect old and unwanted coats from members of the public and give them directly to those in need over the winter months. The announcement was made to mark the UN International Day for the Eradication of Poverty on Monday 17th October.
Coats will be distributed via homeless shelters, refugee centres, elderly organisations, women's refuges, children centres and other charities. Human Appeal have organised nine locations across Greater Manchester, all donated by Safestore Self Storage, for people to drop off their coat(s). From there, Human Appeal will distribute to everyone in need of a winter coat.
Hands On London have successfully organised a similar Wrap Up London campaign for the past six years and, now, will be bringing this project to Manchester with Human Appeal. Human Appeal is a humanitarian aid charity with headquarters in Cheadle, established 25-years ago to help people in desperate need both in the UK and elsewhere in the world.
Wrap Up Manchester 2016 will run from 7th-18th November. There is an extra special plea this year for men's coats which are traditionally in higher demand.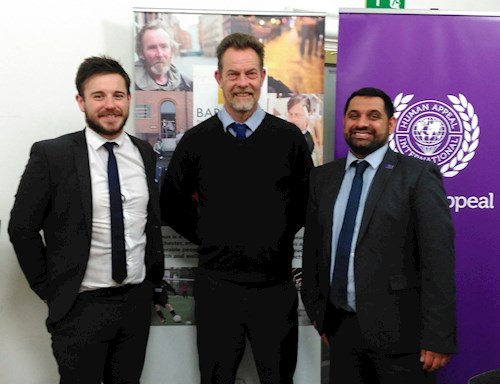 The partnership was announced at an event at Manchester Central Library held by Human Appeal and Barnabus, a Christian faith-based charity that helps homeless people in Manchester, to mark the UN International Day for the Eradication of Poverty on Monday 17th October. The event showcased how people of all faiths and none are working together to help eradicate poverty wherever they find it, whether it is in Manchester or further afield.
Human Appeal CEO, Othman Moqbel, said of the partnership "Human Appeal helps people in need all across the world, Asia, Africa and even here in the UK. Whether it's a besieged city in Syria or the growing number of homeless people in our home city of Manchester, Human Appeal aims to help in every humanitarian crisis."
Mr Moqbel added: "The winter months can be unforgiving for those sleeping rough or unable to afford a winter coat, Human Appeal want to not only offer a hand to those in desperate need of humanitarian aid, but an arm around those in desperate need of warmth."
Jon Meech, the CEO of Hands On London said "We are really excited that our friends at Human Appeal and will be running Wrap Up Manchester for 2016. Wrap Up London is now in its sixth year. With the support of Human Appeal, the most vulnerable in our two great cities will be able to keep a little warmer this winter. Human Appeal and the people of Manchester - you are amazing!"
For more information on Wrap Up Manchester, click here.