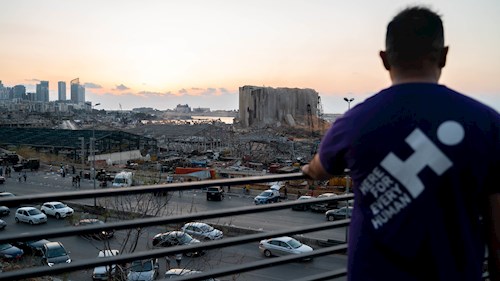 Since Beirut was rocked by a massive explosion on Tuesday last week, Human Appeal has been working with our partners on the ground to get emergency assistance to those who need it most.
Making sure people don't go hungry
The blast itself has totally destroyed many family homes and businesses, and rendered others completely uninhabitable. There are still widespread power outages, so with families having no place or means to cook, we have been providing emergency food assistance.
Our Director of Fundraising, Zaheer Khan, has been on the ground in Beirut for the past few days, where over 1,000 emergency food parcels have been packed and distributed to those in need. We have also been providing instant meals that don't need to be cooked, as a way of feeding families who have no way of preparing their next meal.
Helping hospitals cope
Lebanon's already stretched health infrastructure was already struggling to cope, and now faces breaking point with an influx of COVID-19 patients and casualties from the explosion. People injured in the blast are being treated in car parks, on hospital floors, or are simply being turned away from clinics, as medics and hospitals are pushed to the brink.
Zaheer has visited one of the hospitals in Beirut that is still operational in order to provide them with clean water. He said:
"The destruction I've seen during my time in Beirut so far has been completely unimaginable. Entire neighbourhoods have been destroyed and thousands of families turfed out of their homes without a moments notice. Hospitals are struggling so much to keep up with the demand from COVID-19 patients and blast victims that makeshift morgues are being set up around the city. We will keep doing whatever we can to help Lebanon recover from this tragedy, but we know the road back is long and difficult." 
Beirut needs you now
Be under no illusion: As this event exits the news cycle, the real long-term work to rebuild Beirut and Lebanon as a whole will begin, and it could not be more important that we do not avert our eyes now.
Help us to help Lebanon.
Donate now: https://humanappeal.org.uk/appeals/lebanon-emergency-appeal