In a world of conflict and hardship, education is the way children can learn and grow, while discovering purpose, dignity, and direction.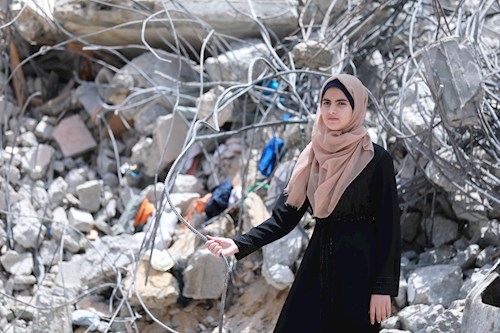 And yet, while the UK prepares to send our children back to COVID-safe schools this September, some 10 million of the world's children may never walk back into a classroom again. Even before COVID-19, the world was facing an education crisis, with 258 million out of school and millions more receiving a poor level of education.
Education in crisis for children like Shahid
In Gaza, the deteriorating humanitarian situation is having a catastrophic impact on education. Thirteen years of blockade and cycles of conflict have decimated Palestine's economy, and young children like Shahid are paying the highest price.
After Shahid's family home was destroyed by conflict, her studies have suffered:
"People were screaming everywhere. My dad started telling the neighbours to evacuate their homes and the local mosque. I felt extremely sad. The attack destroyed part of my school, and this has affected me emotionally. I look at the destroyed building nearby and cry over it."

Millions are out of school
While millions of children like Shahid struggle to receive a quality education, some 3.7 million refugee children are completely out of school. Among Syrian refugees alone, 90 per cent of people living in host communities face challenging conditions that are pushing children to extreme coping measures, including dropping out of school to work or marry.
Public schools are either full or unaffordable. Although education is a basic human right, an entire generation of Syrian children are missing out on going to school.
How we are helping
At Human Appeal, we believe education cannot wait because it is a child's route out of poverty. We are committed to helping ensure some of the world's most vulnerable children can access to quality learning opportunities.
Over the past two years alone, we have worked in Palestine, Iraq, Syria, Pakistan, and Lebanon to improve access to learning for communities affected by conflict and poverty.
Palestine and Syria
In Beit Hanina, East Jerusalem, we created an education and welfare centre, enabling 450 Palestinian students at risk of dropping out to access school, with orphaned children representing 40 per cent of students.
We also helped 6,757 vulnerable children to access quality learning opportunities in Northern Syria and provided educational materials for 1,238 Syrian refugee students in Lebanon across 12 schools.
Turkey
In Elbeyli Kilis, Turkey, we delivered two computer labs in two schools serving 2,325 children living in displacement camps and installed computers and printers for teachers in seven schools.
We also promoted quality education for young Syrian refugees in Turkey and trained 32 Personal Support Specialists (PSS) to work with students and teachers from 34 schools in Turkey.
Paksitan and Iraq
In Tehsil Sumandari, Pakistan, we supported the enrolment and retention of 700 children and 45 adults, establishing ICT labs and conducting teacher training for 434 teachers and 893 students.
We also implemented the National School Feeding Programme of the World Food Programme (WFP) in partnership with the Government of Iraq's Ministry of Education, providing nourishing school meals across 49 primary schools in Ninewa and Anbar, serving 80,500 children in total.
Support our Education in Crisis campaign
Without continued urgent action, half of all young people globally will lack even the basic skills needed to break out of poverty.

As our nation's children go back to school next month, it is the perfect time to support our Education in Crisis campaign and help the world's most vulnerable children to keep learning.

Please donate to our Education in Crisis campaign now. 
Donate now