Since launching their COVID-19 Emergency campaign to raise funds for people facing the coronavirus across the globe, volunteers from leading humanitarian charity Human Appeal have been busy distributing food and household items to vulnerable people across Glasgow, to make sure they have what they need at this even more challenging time.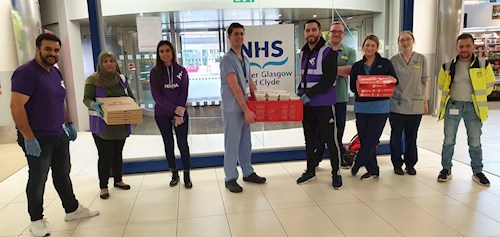 Human Appeal staff have also been handing out meals to NHS workers, to say thank you for their efforts in keeping us all safe from the front line.
So far in Glasgow, Human Appeal has:
Held an appeal in partnership with Awaz FM for people to donate tinned food, pasta, rice and toiletries. Around £200 worth of food was delivered to The Senior Centre in Castlemilk.
Delivered 60 meals prepared by Human Appeal and 15 pizzas from Pizza Hut and Papa John's to NHS staff at Queen Elizabeth University Hospital.
Handed out bags of food and toiletries to people across Glasgow. Batley's Cash & Carry donated 100 bags worth £10 each, and Human Appeal worked with Viral Kindness Scotland to get them out to vulnerable and refugee families, as well as to Crookston Community Group.
Provided 25 pizzas and over 30 starters to Blue Triangle, in partnership with Pizza Hut.
Since launching their emergency campaign on March 20, Human Appeal has raised over £79,000 through over 1600 donations for their Coronavirus relief projects in the UK and nine other countries.
Dr Mohamed Ashmawey, Human Appeal CEO said:
"Vulnerable people in the UK and around the world are in even more danger because of this new threat we face.
"We're determined to face it together, which is why we're active on the front line in Glasgow, delivering help directly to those who need it, and thanking our NHS heroes who are doing their best to keep us safe.
"Thank you to all of our partners, donors, and volunteers, without whom our efforts to be here for every human would not be possible."
Notes to Editors
Members of HA staff are available for interview. For this or any other media enquiries please contact Sam Baxter on 07495 708236.
A selection of images and videos from the distributions is available here.
Charity staff are classed as key workers under the Government's criteria, and charity volunteers are able to leave their homes during the lockdown period as they are providing care and help to vulnerable people.