Three weeks ago, as the reality of the social distancing measures we have now become familiar with was beginning to hit home for many people, leading humanitarian charity Human Appeal launched an emergency campaign to raise funds to help people fight coronavirus in the UK and across the globe.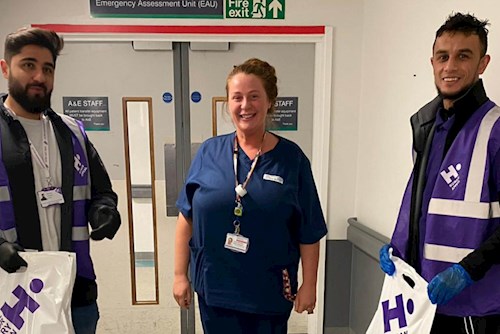 Since then, with a dedicated army of volunteers and in partnership with businesses, community groups and other charities up and down the country, the Manchester-based charity has delivered help to thousands of people.
As well as providing food and supplies for vulnerable people, Human Appeal volunteers have been handing out meals to NHS workers who often find their usual canteens and shops closed, as a way of say thank you for their hard work and the sacrifices they are making.
So far, across the country, Human Appeal has:
Delivered over 2,640 hot meals to hospitals in Greater Manchester, as well as over 300 meals and 90 packets of wipes and masks to homeless people. Over 60 meals and 120 food parcels of eggs, milk, fruit and vegetables were provided to Age UK in Greater Manchester.
Provided NHS staff at The Whittington Hospital in London with 100 hot meals.
Delivered essential items to Age UK and foodbanks in Leicester, and over 300 meals to Birmingham hospitals.
Delivered £200 worth of food to a Senior Centre in Glasgow, as well as 25 pizzas and over 30 starters to a community group for their beneficiaries, and also gave 60 meals and 15 pizzas to staff at Queen Elizabeth University Hospital.
Over this Easter weekend, Human Appeal in partnership with local residents will be providing and distributing food packs to over 140 families in Manchester.
Since launching their emergency campaign on March 20, Human Appeal has raised over £120,000 through over 2,600 donations for their Coronavirus relief projects in the UK and nine other countries.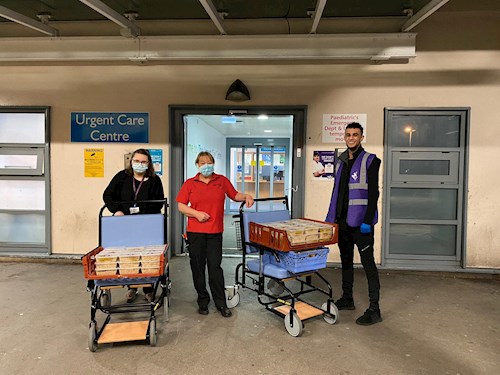 Dr Mohamed Ashmawey, Human Appeal CEO said:
"We say we are here for every human and the number of people we have helped in such a short space of time is testament to the humanitarian values we live by.
People across the country face even more hardship as a result of COVID-19 and Human Appeal are out in communities making sure nobody gets left behind.
This situation may have a long way to go, but thanks to our donors and volunteers, we will be there for people every step of the way."
Abid Shah, coordinating Human Appeal's response to the COVID-19 outbreak across the UK, said:
"Feeding our NHS heroes is the least we can do to show our appreciation and endless thanks for their efforts during this testing time for us all. This, and seeing the smiles on the faces of people we are helping who did not think any help was coming, makes it all worthwhile.
"We're reaching out to hospitals, mosques and businesses up and down the country to offer Human Appeal's helping hand in providing assistance for those who need it most.
We're proud to do our bit for our communities across the UK so wherever you are, if there is any way we could work together or if you need our help, we want to hear from you."
Notes to Editors
Members of HA staff are available for interview. For this or any other media enquiries please contact Sam Baxter on 07495 708236.
A selection of media from distributions across the UK is available here.
Charity staff are classed as key workers under the Government's criteria, and charity volunteers are able to leave their homes during the lockdown period as they are providing care and help to vulnerable people.