For most of us, the common cold is harmless. We take it for granted that our bodies will fight it and be healthy again within a few days. But for people in refugee camps this winter, without adequate shelter, clothing, nutritious food, or medicine, the common cold can be deadly.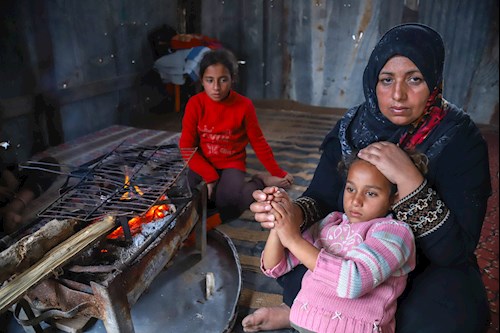 How a cold can be deadly
For refugees without shelter, heating, clothing, food, or medical care, catching a cold can be deadly. It can quickly worsen and lead to chest infections, which can ultimately lead to pneumonia and other serious winter-related infections. Sadly, this winter, millions are at risk.
70.8 million people are displaced worldwide.* More people are on the move now than ever before, and the contact and movement of so many people could put many more at risk. Last year X Syrian babies were killed by freezing temperatures. 1 in 3 child deaths in Syria are caused by cold-related respiratory illnesses, such as pneumonia, and chest infections are now the number one reason for Syrian children seeking medical help.**
How we catch a cold in winter
As the temperature drops, so does our immunity. In cold weather, our bodies preserve heat in our head and core, pumping less blood to our extremities. With less blood flow, we have fewer white blood cells to fight infections and illnesses. Because winter is less humid, it dries out the mucus.
Human Appeal winter emergency response
Since the winter of 2015, Human Appeal has been providing warm winter clothing, food, shelter, and medical care, to vulnerable people, bringing comfort, warmth and desperately needed healthcare to help refugees at risk of freezing to death in camps.
Thanks to your generous support, we have helped nearly 200,000 people across 11 countries through our winter emergency response, including 48,955 in Syria, 22,230 in Lebanon, 14,541 in Palestine, 6,273 in Pakistan, 6,000 in Bangladesh and Myanmar, 6,000 in Iraq, 5,280 in Yemen, 2,934 in Somalia, and 56,427 here in the UK. We could not have achieved all this without you.
Human Appeal healthcare interventions
We believe every human should have access to medical care, no matter where they come from or what their income is; whether they have been forced to flee to the next city or have crossed borders.
In 2018, working with OCHA and the United Nations Children's Fund (UNICEF), we provided life-saving nutrition services in health facilities in Syria, supporting five primary health care centres, two mobile clinics and Al Imaan Hospital in rural Aleppo, benefiting a total of 35,688 vulnerable women and children.
Treating infections and diseases
These facilities provided paediatric and obstetric care, and screened for, treated, and monitored malnutrition, as well as treating infection and diseases. We also supported 40 community health workers, recruited staff, furnished the health centres and promoted outreach activities in the area.
In Yemen, the continuing conflict has accelerated the collapse of public services. Last year, we distributed medicine to health centres, providing 13,000 people with access to care and medicine for nine months.
Human Appeal provided emergency relief to thousands of families in the wake of the brutal battle of Mosul. In 2017, we set up a mobile medical clinic providing specialist services to internally displaced families in four camps.
Winter Appeal 2019
Every year, for those freezing to death in refugee camps, our Winter Appeal is a lifeline, helping to prevent common colds and winter-related illnesses, and ultimately saving and sustaining precious lives.
This winter, help us to provide emergency winter packs, to help families through the harshest months.
Give £100, and provide a family-of-six with warm clothing, thermal bedding, and fuel for heating.
In Somalia £100 will provide a displaced family with shelter repair kits to protect their home against the harsh winter weather.
For just £70, you can provide a family-of six-with enough nutritious food to last a whole month.

Find out more about how your donations will support vulnerable people through our Winter Appeal.
*UN Statistics, 2019
** Department for International Development, 2018