Winter is closing in and our award-winning Wrap Up campaign is back for the fourth year, which helps vulnerable people in the UK through the bitter months by providing them with warm winter coats.
This year, we're spreading the warmth further. In partnership with Hands On London, Human Appeal will be wrapping up Leicester, in addition to Manchester, Birmingham and Glasgow.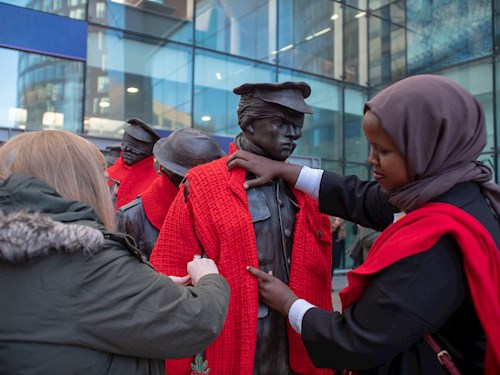 Rough sleeping is on the rise – help us spread the warmth
Sadly, homelessness among vulnerable groups has risen by 75% since 2010. On any given night, there are 4,000 people sleeping rough on the streets of Britain*.
A winter coat might seem like a small gesture, but it can make a huge difference to a vulnerable person enduring cold nights on the streets, living in a shelter or who can't afford to pay for heating.
Through the simple act of asking kind people like you to donate your spare winter coat, we can help local charities to provide the homeless, refugees, children living in poverty, and those fleeing domestic violence with warmth.
We collected 30,787 coats last year
Last year, our supporters donated 30,787 coats at 23 drop-off points across the UK. We collected 27,000 coats in London in partnership with Hands on London, 1,763 coats in Manchester, 636 in Birmingham and 1,388 in Glasgow. 1,300 volunteers gave a total of 4,375 hours, collecting, quality-checking and sorting the coats, which we then donated to 172 charities working with vulnerable people. Thanks to everyone who wrapped up with us!
Get ready to Wrap Up 2019
Please have a look through your wardrobe today and donate a coat. If there's nothing you want to give away, there are other ways you can get involved with Wrap Up. You can volunteer or host a coat collection. You can even donate £3, which will go towards providing hats, scarfs and gloves to those who need them most.
Please follow our Wrap Up 2019 campaign across the UK this winter.
Find out more about how and where you can donate a coat as part of this year's campaign.
*Shelter 2019