August 19, 2019
This World Humanitarian Day, the UN is honouring #WomenHumanitarians, highlighting the invaluable work of women carried out during crises. The #WomenHumanitarians of Human Appeal support marginalised communities, deliver life-saving aid and lead country offices, putting aside their needs to help the most vulnerable communities.
So race to [all that is] good. (Quran, 2:148)
Come, meet the women humanitarians of Human Appeal, who race to all that is good by delivering aid, managing offices, and coordinating communities.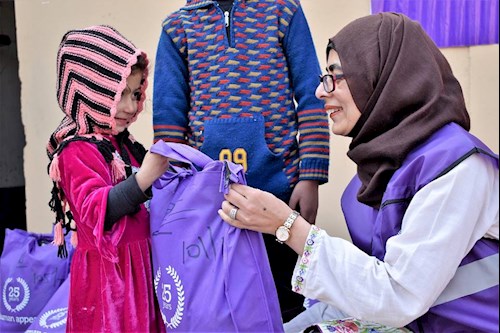 Faryal Mihnas is Human Appeal Pakistan's country director, currently in Erbil, Iraq as the acting country director.
I am a very proud and happy mother today. In my years on this job I've often had to leave my children for days while I go for field visits. This is the nature of my work. I feel guilty every time I leave them alone, and, as a humanitarian and child protection practitioner, I often feel that my teachings contradict what I practice in my personal life. But my consolation is the knowledge that I do it for them.
Right now, I am in Erbil, Iraq, where I'll be the acting country director for a few weeks until we find a permanent person for the job. And in one of my down moments when I miss my family, I received the best gift I could have asked for: an email from my daughter that made me so proud of her. My children are wonderful, and my whole world.
Dearest Mama,
Assalamu alaykum. I miss you so much. I never thought I could miss a person's voice, but I miss yours. I miss your hugs. Also, I miss your scolding!
I also wanted to thank you for working so hard for us, for keeping me happy, safe, protected and nourished. Thank you for laughing with me, even though sometimes you were laughing at me! Despite all you've been through, you remain strong and smiling – that is what I admire most about you!
I love you, Mommy,
Areej.
Noor AbuShaban is the HR administrator at Human Appeal Palestine, in Gaza. She tells us how, despite a night of shelling nearby, she left for work, just as usual, to help those who needed support.
I can't forget the evening when a building near my home was bombed. The shelling went on all night; it was awful. On my way to work the next day, I saw destruction, thick smoke, aid workers trying to help, and people clearing shrapnel off the roads.
That day, Human Appeal's emergency team went to assess the situation; we were one of the first responders and we provided urgent medical aid.
Seeing our team helping men, women and children affected by the bombing encouraged me to keep going, and to keep helping people, through all the difficulty.
In my eighteen months with Human Appeal, I helped to distribute many items that had an impact on the lives of ordinary people here. When we distributed winter kits to children they were so happy to have new, warm clothes to protect them from the bitter winter chill. In Ramadan, when we distributed iftar to children without parents or families at a support centre, we played, laughed and sang together.
None of our work here – supporting people in emergencies, helping them to rebuild their lives, or assisting them through hardship – would have been possible without your support.
Often, our work can be bittersweet – it is wonderful to be able to help make a difference, but it's also difficult to see people enduring hardship. I hope that we can continue changing lives for the better – that's what makes us human.
This World Humanitarian Day, we'd also like to remember our colleague and devoted humanitarian, Inaam Alabood, who, in racing to all that is good, lost her life.
One year ago, on August 10, 2018, Inaam, her husband, and five of her children were killed in an airstrike in Syria, along with 30 other civilians. Inaam was a pharmacist at Al Imaan Hospital, run by Human Appeal, which provides life-saving care to vulnerable mothers and children in Aleppo. She continued to support vulnerable people, despite being displaced from her own home
Today we honour all three of these dedicated humanitarians, and all who exemplified Human Appeal's commitment to helping vulnerable people and making the world a better place.