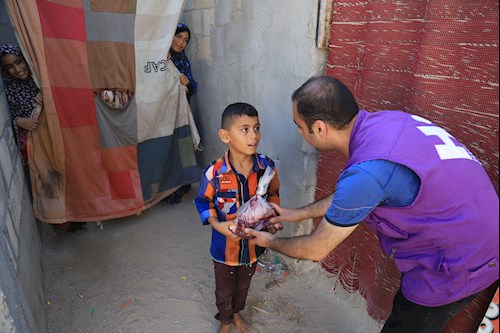 How you made a difference this Eid al - Adha
Alhamdulilah, another blessed Eid has been and gone. This year, your generous Qurbani donations provided nutritious food to over 150,000 people in eight countries. For many, Eid was their only chance in the year to eat meat.

Qurbani
Every year, Qurbani is carried out during Eid al-Adha to remember the devotion of the prophet Ibrahim (AS), who was prepared to sacrifice his son for the sake of Allah. It's a legacy that Muhammad (PBUH) honoured, and a blessed duty for all adult Muslims today.
When the Messenger was asked what Qurbani is, he answered, "It is the Sunnah of your father Ibrahim. For every hair of the Qurbani you receive a reward from Allah." (Al-Tirmidhi)

How you helped
In Syria, where many families continue to endure unimaginable horror, you provided 10,990 people with nutritious meat. In Somalia, where a staggering 2.6 million people have fled their homes due to armed conflict, water shortages and food insecurity, you supported 34,393 people. And in Gaza, which the UN predicts will become unlivable by 2020, you provided 13,116 people with the security of a nourishing meal this Eid.
You supported over 20,000 Yemenis, who are facing malnutrition, disease and the worst humanitarian crisis in the world.
In Bangladesh, which consumes the least meat per capita in the world, you supported 1,680 Bangladeshis and 3,777 Rohingya refugees.
In India, where inflation has made it difficult for families to afford meat, you supported a staggering 61,880 people.
In total, you spread joy to 151,514 people in Bangladesh, India, Iraq, Pakistan, Pakistan-administered Kashmir, Palestine, Somalia, Syria and Yemen.
We're honoured that you entrusted your blessed Qurbani donations to Human Appeal, and, we look forward to working with you again to combat the causes of poverty through our sustainable, people-focused projects.