This is One Opportunity to Help
This is Maryam. At just 14 years old, she lives at the Beach Refugee Camp in the Gaza Strip with her 14-member-family, and she is afraid of another Gaza war.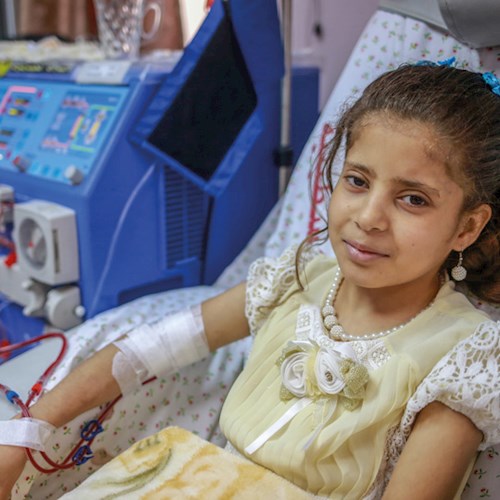 "Painting is my favourite hobby. I love my cat. Her name is Fofo and she is my friend. I love playing and I like studying hard. I dream to become a doctor when I get old.
My Dad is a fisherman. Sometimes I go with him to help. I feel happy when I see the sea. I feel freedom. Dad has a small fishing boat. He can't sail deep in the sea for fishing because the fishing area is too limited [due to restrictions on the fishing area for Palestinian fishermen]. That's why my family doesn't have enough income and we mostly depend on aid.
From time to time, there is a scary war. I am afraid of losing someone from my family. I have lived through three difficult wars and I always expect a new war to happen soon. Unfortunately, it's become part of our life.
Getting water is difficult. Tap water, which is mostly cut, is undrinkable. It's salty and not clean. My brother goes, every day, to fill a gallon from a water unit in a nearby mosque. Electricity is mostly cut off. Our home turns dark as soon as the sun sets.
When I was born, they discovered that I have renal failure. I was born with one kidney. Dad and mum tried to donate a kidney for me, but doctors said the tissues didn't match. I started getting kidney dialysis treatment when I was six. It is so exhausting to go to the hospital for dialysis treatment. It affects my progress at school. Alhamdulillah, I only go once a week now.
Dialysis machines provided by Human Appeal have helped me and many more patients to avoid waiting a long time for treatment. Without such help, our life would be even harder. I hope you will remember me with your prayers and remember the people of Palestine who love you because you stood by them. I really thank you from my heart."
Over 1 million Palestinians could go Hungry and 1,700 Face Forced Amputations
With the ongoing blockade and cycles of conflict, Gaza is at breaking point. 38% of people live in poverty. 54% are food insecure. Over 75% are aid recipients. More than 90% of the water is undrinkable. And one third of the items in the essential drug list are out of stock, which has resulted in the Ministry of Health declaring an emergency.
We are on the ground in Gaza, delivering food parcels with produce from local farmers and establishing water purification plants in schools and hospitals. We are also providing the region's major hospitals with vital emergency medical aid, but we can do nothing without your support.
Believe in the Power of One
Our fresh, locally sourced food parcels can provide a family with weekly supplies from a local farmer for four weeks, alleviating food insecurity and providing a livelihood for farmers. Our Water Desalination Plant in Rafah can provide 25 people with daily access to sustainable drinking water, and our Gaza Medical Fund can save lives.
It would be easy to think that one person cannot possibly make a difference when it comes to alleviating the situation in Gaza for Palestinians. However, at Human Appeal, we are here for 'the one.' For the one child in Gaza, just like Maryam, who desperately needs our support, this is one opportunity to help.
Let's be one. Unite with us this Ramadan to help the people of Gaza.
Please donate to our Gaza Emergency Appeal today.