Ramadan Mubarak! The blessed month has arrived, and we are proud to announce our Human Appeal Ramadan Launch Campaign: 'It's Ramadan. Let's be one.'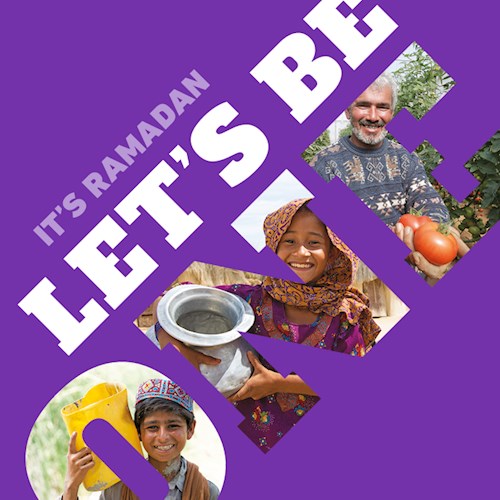 This year, we are inviting every one of you to unite with us to help those in desperate need and to multiply our rewards.
Sadly, our Ramadan 2019 campaign is desperately needed. Over 68 million people have been displaced worldwide. More than half the planet lives on less than £2 a day. Millions of people are suffering from malnutrition and hundreds of children are orphaned, every day.
Let's Believe in the Power of One
You may think one person cannot possibly make a difference. But, at Human Appeal, we believe in the power of one. We believe that one person can save and change lives. We believe in protecting and preserving every single precious life – from the widow struggling to feed her children in Palestine, to the Rohingya mother unable to shelter her little ones.
Our projects, this Ramadan, focus on countries affected by conflict, displacement, poverty and malnutrition, including Palestine, Pakistan, Bangladesh, Yemen, Somalia and Syria and there are so many ways you can help one person or one family in these countries.
One of our Feed the Fasting Food Parcels can provide a whole family with enough food to last the entire month of Ramadan. One donation to our Health and Nutrition programme in Yemen can prevent a child from dying of malnutrition or cholera. One donation to our Safe Water project in Somalia can provide communities with fresh, clean water. And one donation to our Syria Education project can educate a Syrian child for two years. These are just some of the ways you can help.
Let's Multiply our Rewards
"Every deed of the son of Adam will be multiplied for him, between 10 and 700 times for each merit. Except for fasting, for it is for Me and I shall reward for it [as I like]." [Muslim, Ibn Majah and Tirmidhi]
This Ramadan 2019, we invite every one of you to unite with help those in desperate need and multiply your rewards.
Last year, we united to sponsor almost 12,000 orphans and help over 3 million of the world's most vulnerable people with our emergency aid, safe water and sustainable development projects. Every one of your donations helped. We achieved so much as individuals – together.
So, let's unite this year. Let's save and change lives together. Let's multiply our blessings and rewards.
It's Ramadan. Let's be one.