The Struggle for a Warm, Safe House in Gaza
The people of Gaza have been through great turmoil in recent years. Confined to a small strip of land called the Gaza Strip, it has become extremely overpopulated. In fact, it is the third most populated state in the world, with nearly 2 million people living in approximately 141 square miles of land.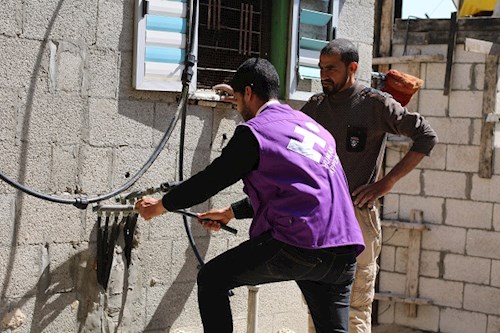 Not only is Gaza overcrowded, but 47% of the fit-for-work population are unemployed – according to a recent UN Report, this is the highest rate of unemployment in the region. This means there are many vulnerable families without a stable source of income, and almost 80% of the population in Gaza rely on overseas aid agencies, like Human Appeal.
Unfortunately, their situation becomes worse still. Recent attacks on Gaza have damaged and devastated around 2,400 homes, meaning families without an income are living in unsafe, partially destroyed or makeshift homes. This gets even worse during winter, when cold weather and rain sweeps the region and leaks through into their homes.
It isn't just a lack of funds that slows the repair of Gaza's homes. The blockade that has been put on Gaza means that certain building and construction materials are prohibited. Even if a family were able to afford to repair the damage, a local construction worker may not have the necessary materials and tools required to restore the damage – which in turn can lead to unemployment for the construction worker. Collectively, chronic instability, high rates of unemployment and household poverty makes daily life incredibly challenging for families living in Gaza.
Rebuilding Homes, Lives and Hopes
In partnership with Unlimited Friends Association, we've improved the housing conditions of 12 local houses across the Gaza Strip, enabling 93 vulnerable people to now live in a safe and healthy environment.
Because of your support, our teams were able to carry out essential repairs to damaged homes by providing tools to aid restoration, rebuilding, plastering and painting. We were also able to provide wooden doors, tile floors, bathrooms and kitchens, including marble works. Plumbing and electrical works were also safely installed and tested.
Our projects aim to keep families safe, happy and sustainable over the long term, and we would like to thank you for your ongoing support, which has allowed us to rebuild lives.
Find out more about our work across Palestine to see how you can help support us to empower local families in desperate need.