Human Appeal, one of the leading NGOs working in Yemen, have launched an emergency appeal today in response to the latest figures declaring that 14 million Yemenis could soon be at risk of starvation.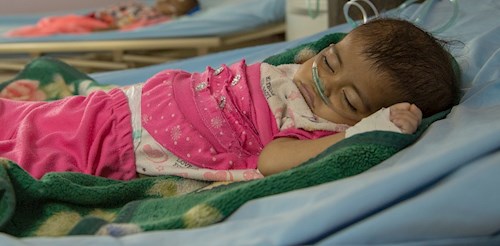 Owais Khan, Human Appeal's Director of Communications, who is leading the appeal says:
"A famine, unprecedented in our lifetimes, is imminent. It is the moral duty of all of us to act, otherwise 14 million people will be at risk of starvation. That is why I am acting, that is why Human Appeal is acting and that why we need you to act too. Currently, six out of ten Yemenis do not know where their next meal will come from.
"Aside from the horrendous food insecurity across the country, 75% of the people in Yemen are in need of humanitarian assistance. Yemen's public health system has been crippled by last year's cholera and diphtheria outbreaks, with only half of all hospitals in the country still functioning and those that are still open are struggling to access medicines. More and more Yemenis are struggling to access clean water and hygiene facilities, allowing disease and infections to spread rapidly. Human Appeal's operations are specifically targeting these areas of huge concern.
"Human Appeal has been working in Yemen since 2014, running programmes to alleviate the suffering created as the conflict rages on. This year alone, Human Appeal has helped over 165,000 Yemenis through life saving support provision in health, nutrition, access to clean water, food security, shelter, protection and education interventions in the most affected areas across the country.
"Human Appeal has recently signed agreements with UN agencies totalling over $4 million which help hundreds of thousands of Yemenis who are starving and in need of medical attention. The projects include an emergency food security project through cash transfers and an emergency health and nutrition response, through mass casualty and trauma care as well as provisions for pregnant women and new-born babies. These two projects alone will help over 450,000 Yemenis. But so many more need assistance and we can reach them, with your support.
"Whilst military actors fight each other, ordinary Yemenis are fighting starvation, fighting to stay alive and just fighting to see tomorrow. Your donation is needed more desperately now than ever before."
To donate to Human Appeal's Yemen Emergency Appeal go to https://humanappeal.org.uk/appeals/yemen-emergency-appeal