The situation in Myanmar is heart-breaking. Lives have been torn apart through violence and conflict and around 900,000 people have fled the Rakhine State to escape such brutality. We've gathered some insights from Saiful Islam, our Website Manager at Human Appeal, who shares his first-hand experience in Cox's Bazar, serving and communicating with the traumatised refugees, currently dwelling in dire circumstances.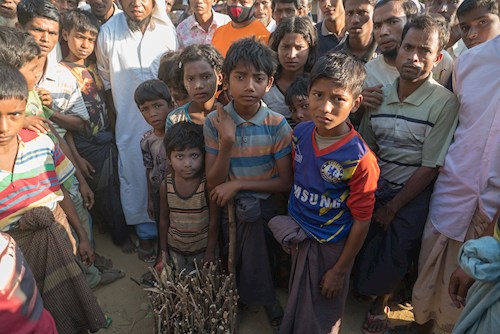 1.Where did you visit and why?
We visited different states of Cox's Bazar, where the majority of the Rakhine people had arrived from having fled Myanmar. In particular, we visited, Kutpalong, to distribute emergency aid, food, clothing, medical care and shelter to the refugees.
2. What was the atmosphere like once you had arrived?
Fear and uncertainty – with many refugees still arriving into the area, although the majority had already arrived before we had got there. Unfortunately, the atmosphere was chaotic, there was a lot of despair, worry and screams of agony.
3. What role did you carry out?
I went to oversee the social media awareness of the situation, providing daily updates and takeovers via social media – to report almost live from the field, what was going on – and to cover Human Appeal's distributions of emergency aid, medical care, food and clothing.
4. Did you manage to speak to any of the vulnerable people?
We did. We managed to spend some time with the people affected, hearing the most heart-breaking stories of the elderly and some youth. In particular, one young boy who had fled with his younger siblings, after the majority of his family had been killed. I will never forget his face, of how he was close, but evidently distant due to what he had been through.
5. Would you say this experience has changed you as a person?
I think for the moments you're there, there is a clear sense of feeling that even though you're there to help, you feel like you can't do much. The people not only needed support through food, shelter and other materials, but the main support they needed was psychological, and that wasn't something we could give at that time.We, from Human Appeal, therefore tried to equip them with necessary supplies and emergency aid as much as possible, so at least this small satisfaction could sway them away from being psychologically affected.
And then we come back to our own lives, where we can casually help ourselves to a glass of clean water or we're spoilt by the abundance of food choices on our tables. We have it so good, but we very often reflect on the favours we have been blessed with, and remember those who don't have anything near what we do.
6. How has this journey uplifted you spiritually?
I think any opportunity to help those less fortunate is a blessing – and every blessing is from Allah and every trial is from Him, and it's up to us to either recognise this for our own benefit, or resist this to our own detriment. And I felt there was a lot of belief when I visited the camps, you didn't feel like people were angry at Allah – rather they were hopeful He would help – as He is the only One who can truly help, and that was humbling.The experience placed more emphasis on my Islamic duty towards humanity and the precarious environment we inhabit. It made me reflect on how involved I am in serving these vulnerable people and as a Muslim, how much care and attention am I giving to them.
7. What message/advice would you give to others after your journey?
Simply, don't take anything you have for granted. You could have everything in the world, and not recognise it, and the next minute it could all be taken away.Give to your utmost, put yourself in the shoes of these vulnerable people and ask yourself if you would be able to cope in this situation? Let's act according to how we would want to be treated in such dire circumstances. Let's fulfil our duty to Allah.
8. Would you do this again?
For sure, despite it being disheartening, I would love to go back and provide longer lasting support – whether in an educational capacity or mental support capacity, and just see how we are continuing to make their lives better.
9. How can others help with the situation?
As always, you can donate to our Rohingya projects to ensure the aid we offer can get to those who need it most. And even if you can't donate anything, know that there are plenty of ways you can still help. Whether that is re-sharing our social content, or tagging friends or family in the comments section to raise awareness, or simply making a du'a for those less fortunate. Alhamdullilah, our faith provides us so many ways in which we can benefit others.
Donate to our Rohingya Emergency Appeal to improve livelihoods today. Witnessing such tragic moments was a real eye-opener and I cannot stress enough how much these vulnerable people need our help and support.
The situation has now escalated with a second tragedy, as the Monsoon season threatens to take lives. 100,000 people are at risk of being hit by such severe weather condition, alongside their light-weighted bamboo shelters being demolished with its force. The people of Myanmar are in urgent need of our support now more than ever.
You can save a life today.