On Friday 30th March, thousands Palestinian refugees in Gaza marched peacefully near the border, in hope of returning to the homes they were expelled from in 1945. Israeli troops shot 17 protesters on the first day of an expected six weeks of daily protests. Live ammunition and tear gas was fired at unarmed civilians, wounding more than 1,400 Palestinians.
These latest hostilities can only serve to ignite tensions in a region already fraught with violence and uncertainty.
Donate Now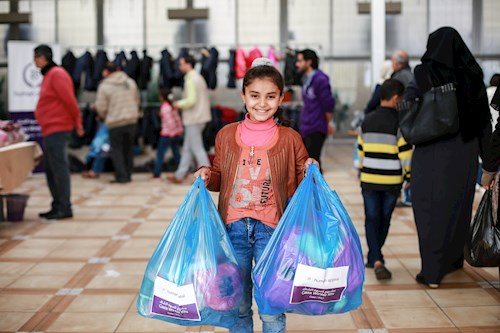 The people of Gaza face a daily struggle for survival
The ongoing blockade is making Gaza virtually unliveable. Nearly 2 million people are denied freedom of movement and access to livelihoods. Nearly 40% of people are food insecure and go to bed hungry every single night.
Basic medicines and medical supplies are blocked from entering the region, preventing families from accessing vital healthcare. Constant power cuts have plunged Gaza into darkness, giving schools, homes and hospitals a meagre 3 to 5 hours of electricity each day. 
Over 96% of water in Gaza is unfit to drink, and restrictions on imports and investment mean that Gaza's damaged infrastructure will only fall further into disrepair, making the water crisis progressively worse. Pregnant women and vulnerable children are forced to drink dirty water, leading to infection and disease.
Human Appeal's work in Gaza 
In 2017, Human Appeal's team in Gaza worked tirelessly in partnership with local NGOs to respond to urgent humanitarian needs and improve the lives of thousands of Palestinians living in dire economic circumstances. 
Helping disabled Palestinians gain vital skills
Through the IRADA Program, we provided training opportunities for 85 disabled people, and helped 77 of them qualify to work in carpentry, manufacturing, furniture upholstery, book binding and other trades. They can now find paid employment and support their families with dignity. The handcrafted furniture and other products made by the disabled trainees were distributed to 65 people living in poverty.
Investing in the future of Palestine through education
At local colleges and universities, we provided financial support to 275 students who didn't have enough money to register for university or who had accumulated unpaid tuition fees and would otherwise have been forced to drop out of their courses before graduation.
Thanks to the support of our donors, we were able to give students the opportunity to continue their education, graduate from university and enter the job market with vital skills.
We also established science and computer labs in universities to help 12,000 students fulfil their academic potential in a better-equipped learning environment. In order for Palestine's economy to develop, a new generation of well-qualified and professional Palestinian citizens must emerge. By supporting students in higher education, we invest in the country's future. 
Rebuilding mosques in Gaza 
During the 2014 conflict, the Gaza Strip was bombed from the air, sea, and land for 51 days, devastating thousands of homes, schools, universities, hospitals and places of worship Around 73 mosques were destroyed and 197 were damaged.
Human Appeal pledged to renovate 13 mosques that were affected in order to prevent them from collapse or destruction, and to enable worshipers to practice their prayers in comfort. In 2017, we renovated mosques including the Great Omari Mosque, which is one of the oldest and largest mosques in the Gaza Strip. We maintained gates, walls and domes to preserve the heritage and the architectural shape of these sacred buildings.
Empowering Gaza's youth
Our youth empowerment initiative aims to create 12 brand new start-ups with jobs for 30+ Palestinians who have graduated in technology and related fields. Potential entrepreneurs will be encouraged to launch their own projects and receive training in technical and business skills. We are hoping to complete this project and provide budgets for start-ups with full action plans by the end of this year.
The people of Gaza still need your help
The tragic deaths of unarmed protesters on the border of Gaza unfortunately just serves as an illustration of the persecution and violence that Palestinians face on a daily basis. By donating to our projects in Gaza, you can ensure that vulnerable Palestinian families are receiving the support they so desperately need.
For just £100, you can provide a poverty-stricken family with emergency food, clean water and medical supplies, to help them survive in truly dire circumstances.
For the small price of £65, you can give a hungry family of four enough nutritious food to last them a whole month.
These small acts of kindness can mean the difference between life and death for Palestinian families trapped by poverty and oppression.
You can save a precious life today. 
Donate Now