Human Appeal Iraq Office, Ann Marie McKenzie, Protection Coordinator
The 8th of March marks International Women's Day, a day to celebrate the accomplishments and strengths of women, and a day to champion equal rights to enable women around the world to become leaders in their homes and communities.  
Recognising the bravery of Iraqi women
Here in Iraq, women have continuously demonstrated their resilience; resilience to survive under the brutal rule of extremists determined to deny women basic rights and dignity; resilience and bravery to flee through bombings and gunfire to save their lives and the lives of their children; resilience in providing hope to their families while living in camps where they endured the blistering Iraqi sun at the height of summer, and the snap of cold during the winter months; resilience to carry on, through losing their children, their husbands, and their families.
Women in Iraq have suffered disproportionately, and yet remain the most consistent in providing familial and community kinship. Women in Iraq have endured violence in their homes and their communities, and issues of gender-based violence pervade many aspects of Iraqi women's lives. According to UN Women, 24% of women between the ages of 20-24 reported they were married as a child, limiting their access to education and economic livelihoods.
The Iraq Family Health Survey reported that 25% of Iraqi women are subject to some kind of physical domestic violence, and that 36% of married women have experienced some form of psychological abuse at the hands of their husbands. These numbers demonstrates only a fraction of the serious issues women in Iraq face on a regular basis, especially those who have endured displacement and are residing in camps or dilapidated homes.
Women are the key to rebuilding communities
Despite the hardships they have endured, the women of Iraq must be at the heart of a solution to successfully rebuilding their families and their communities. Empowering women to become leaders in their homes and communities will ensure their voices and unique positions in the community influence the design of programs to ensure there is better protection for the members of the community most in need. Since women are often the caregivers of the most vulnerable children, elderly, and infirm people, the voices of women often represent the needs of more than just a single individual.
International NGOs like Human Appeal are working with Iraqi women to rebuild communities and provide much needed support for survivors of violence, widows, and those women most in need. Human Appeal is proud to have a sponsorship with the UK-based initiative Hijoobi, which empowers young women to build confidence and strength through sports, demonstrating the organisation's continued commitment to promoting gender equality and empowerment of women and girls.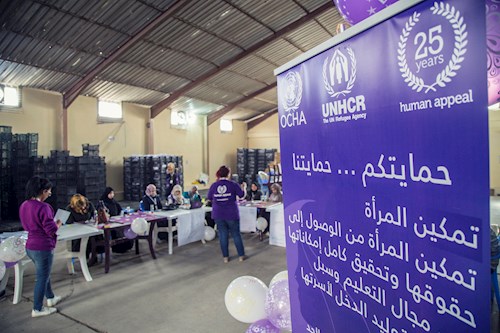 With the support of initiatives such as Hijoobi and organisations like Human Appeal, women around the world can build their confidence, empower and uplift each other, and rebuild their homes and communities. On this International Women's Day, Human Appeal in Iraq urges people everywhere to take this day to reflect on how we can continue to #PressforProgress and ensure gender equality becomes a reality for women everywhere.