Despite the incredibly difficult and dangerous circumstances, Human Appeal is on the ground providing vital humanitarian aid to the people of Eastern Ghouta. Thanks to the generous support of our donors, our teams have provided 6,800 desperate people with fresh bread and 4,300 people with cooked meals.
This is just the beginning of our response, and we need your help to bring vital food and medical aid to families of Eastern Ghouta for as long as this emergency lasts.
Donate now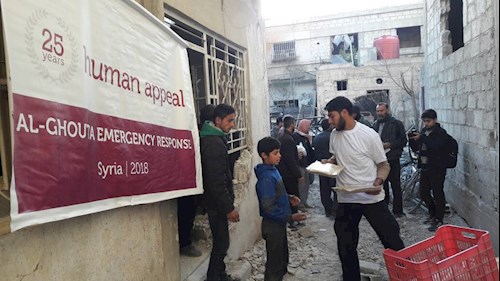 The current situation in Eastern Ghouta
Aid is finally beginning to enter the besieged Syrian enclave that has been under intense military bombardment for the past two weeks. This is a major victory for the 393,000 people trapped there without food or clean water, but unfortunately, vital medical supplies are still being blocked from entering the region.
In the last fortnight, more than 700 civilians have been killed, many of them children. Another 5,600 innocent people have suffered grave injuries, and they desperately need the medical equipment that is being withheld. Medical staff in Eastern Ghouta are carrying out medical procedures without anaesthetic and trying to work without antibiotics, painkillers or clean bandages.
Violence is ongoing despite a UN-ordered ceasefire
On Saturday 3rd March, the UN Security Council voted unanimously for an immediate ceasefire in Eastern Ghouta, but deadly airstrikes have continued. Monday 5th March saw 77 people killed. Due to the siege conditions, innocent families are sitting targets when the bombs fall on Ghouta. There is nowhere for them to run. 
People are forced to hide in basement areas, cut off from clean water and sanitation facilities. Some children were confined underground for 15 days, never once seeing sunlight. Cold, hungry and exhausted families are losing hope as the UN's ceasefire continues to be disregarded.
The nightmare is far from over
The people of Eastern Ghouta are still facing unimaginable suffering. Without immediate intervention, they will not survive. One large convoy of aid is simply not enough in these desperate situations. Vulnerable families need repeated and continuous support in order to make it through this terrible crisis alive.
For just £65, you can keep a family of four well-fed for a whole month with a nutritious food parcel. For £100, you can provide a family with emergency food, clean water and medical care to lessen their terrible suffering.
You can save a precious life today.
Donate now