From all of us at Human Appeal, we'd like to say a huge thank you to our donors! Your support enabled us to save lives in 2017 and give some of the world's most vulnerable people a brighter future. 
Last year, our world faced the biggest humanitarian crisis since 1945. 65.6 million people were displaced from their homes by conflict and poverty – 20 people every minute. 815 million people – one in nine – went to bed hungry every night. Violence in Syria, Yemen and Myanmar caused grief and misery to millions of innocent families
Thanks to our amazing donors, we were able to respond to global events with unprecedented speed and efficiency. With projects ranging from the distribution of Qurbani meat and emergency food parcels to providing long-term livelihoods and educational support to impoverished communities, your donations enabled us to change precious lives.
Our work in the Middle East
Thanks to your generous donations, 132,000 displaced and vulnerable people in Iraq benefitted from emergency relief and sustainable development projects. We provided WASH facilities, shelter and medical care to thousands of families fleeing from the city of Mosul.
In Syria, hundreds of thousands of conflict-affected people received essential aid including emergency food packs, warm winter clothing, healthcare and livelihoods support. With your help, we provided more than 200,000 Palestinian children with safe, clean water every day of the year, and we were also able to build a welfare centre for orphans in Jerusalem.
When a deadly cholera epidemic gripped Yemen, your donations allowed us to respond immediately. We provided 18,000 beds for cholera patients and medical supplies benefiting a further 840 people. 24,206 hungry and malnourished people received essential food parcels, and another 25,969 received Qurbani meat. Our school projects equipped 1,200 children with educational kits and school uniforms. In Yemen, 75,877 beneficiaries received aid throughout 2017. 
Our work in Asia
In Bangladesh, your donations have allowed us to educate 60,250 people about the importance of safe water, sanitation and hygiene to combat the spread of waterborne diseases. We provided 20,660 Rohingya refugees fleeing from the crisis in Myanmar with emergency relief and 45,000 refugees with much-needed medical aid. 1,500 Rohingya children were provided with safe spaces to play in. 
Displaced and homeless Rohingya families still trapped in Myanmar also received emergency relief. In total, 86,550 people in Bangladesh and Myanmar benefited from our interventions.
Our education projects in Pakistan benefited 15,377 children and we also improved access to clean water for more than 42,000 people. Our security and livelihoods projects provided long-term support to 5,475 beneficiaries.
Our work in Africa
In March 2017, a devastating drought caused in part by the El Nino phenomenon hit Somalia, plunging millions of people into severe food insecurity. Thanks to the support of our generous donors, we were able to improve access to food for 7,050 people in the drought-stricken regions of Gedo and Baldoa. 
We improved access to safe sanitation and clean water for 14,400 people and provided emergency aid to 400 people in the capital city of Mogadishu. Overall, 51,415 people benefited from our interventions in Somalia in 2017.
In Niger, we provided Feed the Fasting food parcels to 435 needy families and Qurbani meat to 710 households. Our child health and nutrition project helped 17,923 children. 200 people in Tunisia and 13,000 people in Kenya received Qurbani meat. In Sudan, Feed the Fasting donations and Zakat payments benefited 2,700 families and 42,000 people were provided with fresh Qurbani meat.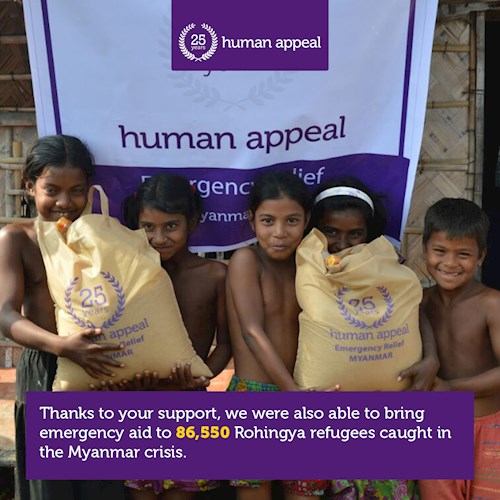 A new school was built in Senegal, helping 2,000 children to access quality formal education. Your Feed the Fasting donations provided food parcels to 562 families and during Qurbani, we delivered meat to 753 hungry families. 
Our work in the UK 
Closer to home, your donations supported the victims of the Grenfell Tower fire and the victims of the Manchester bombing. We ran our award-winning Wrap Up Manchester campaign, in partnership with Hands On London, for the second year running. By donating your old coats, hats and scarves, you kept more than 23,000 homeless and vulnerable people warm in the winter of 2017.
We still need your help
Your donations meant that we were able to carry out amazing work throughout 2017. However, our work isn't over. There are millions of families who are still hungry, cold, sick and struggling to survive each new day. We need your support to continue to save lives into 2018 and beyond.
Refugees and displaced families are still at risk in the cold early months of 2018. It's vitally important that our Winter Appeal continues to keep young children, pregnant women and the elderly safe in the freezing weather.
Just £165 will provide a desperate family with the tools they need to survive, including blankets, warm clothing, food and heating fuel. £250 will provide a needy family with shelter essentials like plastic sheets to stop rain and snow creeping into houses and tents. A small donation of £65 will give a family of four nutritious food for a whole month.
Together, we can stop winter killing today.
Donate Now