Janiba fled Myanmar with her husband and four children after their home was attacked. They left with nothing but the clothes on their backs and made the long, brutal journey to Bangladesh. Tragically, they witnessed a pregnant mother and her baby die along the way.
Janiba now works in Human Appeal's Water and Sanitation programme, helping her community to stay clean and safe from disease. She can financially support her family and provide for her four little ones.
Fatima is another Rohingya refugee benefiting from the Water and Sanitation programme. Back in Myanmar, she saw her father stabbed and shot in front of her, and she fled while three months pregnant. Now, Fatima has received training that allows her to keep her newborn son clean and safe, so that she can watch him grow into a healthy boy.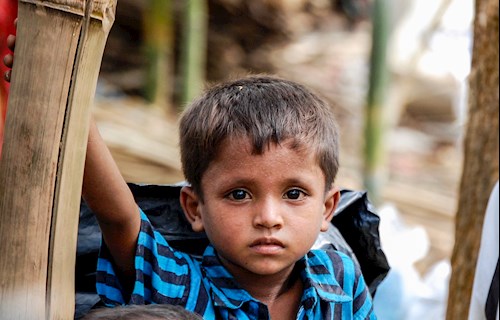 Essential medical care for sick and injured refugees
Human Appeal has also set up a camp medical clinic that serves between 100 and 250 people every single day. It's staffed by qualified doctors and nurses and equipped with high-quality medical supplies. Staff work tirelessly to ensure that every last patient is treated.
One of the beneficiaries of the new medical clinic is 15 year old Umsaluma. She was shot in the leg while trying to flee the violence in Myanmar. She's now bed-bound and the doctors don't know if she'll ever be able to walk again. Through the medical centre, she's receiving pain relief and trauma counselling.
A safe place for children to play
Human Appeal is providing essential aid to Rohingya people in their hour of need by regularly distributing food and non-food items. Our team has built water wells and established a child-safe area for little ones who need a secure place to play. 
Many children are traumatised and living with the emotional scars of what the UN has described as 'ethnic cleansing'. In our child-safe space, they are supervised by trained staff and given much-needed emotional support. They can have fun and just be children again.
Your donations are having a huge impact on the lives of the Rohingya people. In 2017, your generous gifts allowed us to provide vital emergency aid to 86,550 vulnerable Rohingya refugees.
Please continue to support our work.
Donate Now