In a new wave of violence, at least 40 people have been killed in an explosion and series of airstrikes across the northern province of Idlib in Syria. 25 people lost their lives in the deadly blast outside the headquarters of a rebel faction, and another 15 were killed by air raids.
Eastern Ghouta, once the thriving breadbasket of Syria's capital Damascus, is under tight siege conditions. Around 400,000 people are currently trapped in Ghouta, with little access to food or medical supplies. Since the end of December, 126 people have been killed in Eastern Ghouta, including 29 children and 28 women.
Mass displacement continues across Syria
In recent weeks, more than 70,000 people have fled their homes as this devastating civil war continues to ravage Syria. The UN has described the situation for these newly-displaced civilians as 'dire'.
The province of Idlib borders Turkey to the north and is home to around 2.5 million people, including 1 million internally displaced people who have fled violence in other rebel-held parts of Syria over the last few years. Many of the recently displaced civilians have been forced to make their way to Idlib, where they find makeshift camps already overflowing with families forced from their homes by the ongoing violence.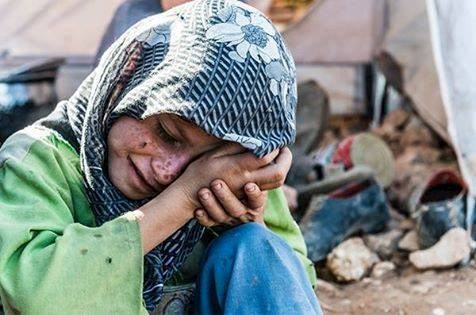 It's estimated that as many as a hundred thousand people are looking for shelter in the overcrowded camps of Idlib after the latest wave of military assaults. Now that the Turkish border is closed to Syrian refugees, desperate civilians have no choice but to remain in Idlib, exposed to advancing bombing campaigns. They sought safety in Idlib, but life is only going to get worse.
Squalid conditions in the camps of Idlib
Families seeking shelter in Idlib's makeshift IDP camps are living in a waking nightmare. The camps are severely overcrowded, and facilities like toilets and showers are completely overwhelmed. Some services being stretched to 4 times their capacity.
International aid agencies have expressed concern that in these terrible conditions, a hepatitis outbreak is on the horizon. Families are desperate for shelter, food, clean water and medical care. As more and more homeless civilians arrive in the camps, conditions will continue to deteriorate and the risk of diseases like cholera and diphtheria spreading will increase.
Families under siege in Eastern Ghouta
Innocent children are starving in Ghouta. Once an area of agricultural plenty, Syria's civil war has transformed Ghouta into a ghetto of suffering and death. The area is being held under tight siege conditions and has endured two weeks of heavy bombardment, killing 126 and wounding many more.
Food and medical supplies are prevented from entering Eastern Ghouta, leading to malnutrition, particularly in babies and young children. Illnesses and injuries are going untreated due to a lack of basic medicines and first aid essentials. Without immediate intervention, it's unlikely that Ghouta's children will survive the winter months.
The winter cold compounds the misery of families
Sub-zero temperatures are dramatically reducing the chances of survival for vulnerable Syrian families. Displaced men, women and children living in makeshift shelters that offer little protection from the winter cold are at risk of developing colds and flu that can easily be fatal for those weakened by malnutrition or injured by the ongoing airstrikes.
Babies and small children living in Idlib's camps often have no warm clothes or blankets to guard against the wind and rain. Parents are reduced to burning plastic and bits of rubbish to keep their little ones from freezing.
Human Appeal's work in Syria
Human Appeal has been supporting the people of Syria since the beginning of the crisis in March 2011, providing emergency aid and sustainable development solutions to long-term issues. In 2016, we supported the Al Imaan hospital in Idlib and have provided shelter, WASH facilities, cooked meals and kitchen sets to families living in rural Aleppo. We also provided Syrian children in northern Aleppo and Al-Dana with learning aids and educational kits so they can now access good quality, formal education.
Thanks to the generosity of our wonderful donors, we were able to help hundreds of thousands of conflict-affected people in 2017 by distributing emergency food packs, warm winter clothing, medical essentials and livelihoods support.
How you can help
We are on the ground in Syria and we hope to reach 20,000 people in response to this humanitarian crisis. By providing vital emergency aid including winter kits to needy families and flour to local bread factories, we intend to save lives across the country this winter. However, we can do nothing without your help.
Just £65 will provide a Syrian family of four with enough nutritious food for a whole month. £100 will buy an emergency pack containing food, shelter and hygiene essentials such as nappies for babies. This will not only help a family to survive, but will allow them to live with dignity.
You can save a precious life today.
Donate now