Omar Ali, Human Appeal's Head of Mission in Iraq, has been nominated for a prestigious Bond Humanitarian Award.
In less than a year, Omar founded the biggest aid mission in Mosul from any British NGO. This incredible achievement is a testament to his courage and dedication to humanitarian efforts. On arrival in Mosul, Omar was Human Appeal's only staff member in Iraq. Today, we have offices in Mosul, Erbil, Baghdad and Tikrit that employ around 230 staff.
Our Iraq programmes have been supported by some of the most respected international aid organisations, including UNHCR, the World Food Programme and UNOCHA. We've also worked in partnership with Oxfam GB, Americares and a number of other trusted humanitarian actors.
Omar's work saved lives in 2017
Last year, Omar implemented over $25 million worth of essential aid initiatives for the Iraqi people. Thanks to the hard work of Omar and his team, and the generosity of our donors, 132,000 displaced and vulnerable people benefited from emergency relief and sustainable development projects.
Our Iraq office also provided shelter, clean water, WASH facilities and healthcare to thousands of desperate families fleeing from the city of Mosul during a major military bombardment.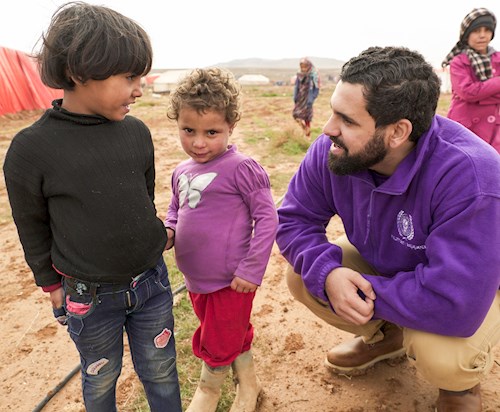 Human Appeal's ongoing Iraq programmes
Under Omar's leadership, Human Appeal is continuing to implement a front-line civilian protection response in Iraq, attempting to reduce instances of human rights abuses, gender-based violence and sexual exploitation.
We are still distributing daily food parcels in Mosul, where we have helped 360,000 hungry people, and we're also providing shelter kits to 216,000 people made homeless by the devastating conflict and non-food item kits to another 125,000 civilians.
n 2018 and beyond, we plan to rehabilitate 30 schools in West Mosul in time for the start of the next academic school year. This project will benefit 21,000 needy children. We will also transport clean water into the most heavily damaged areas of Mosul every day, helping 25,000 people.
Unmatched bravery in a crisis situation
Omar's hard work has ensured that Human Appeal has responded rapidly to shelter, food and clean water needs, particularly in hard-to-reach areas of Iraq. He has enabled our Iraq team to protect civilians, support victims of sexual violence and reunite separated families.
Omar is esteemed by his colleagues, and was elected by his peers from over 200 NGOs to the Humanitarian Country Team as one of only six country directors. This position sees him work alongside the heads of UN agencies and the ICRC, and take responsibility for country-wide humanitarian policy in Iraq.
Thanks to Omar's dedication, Human Appeal was the only UK NGO with an office inside Mosul and we were the first organisation on the ground and saving lives when the city was retaken by government forces.
Despite the ongoing violence in Mosul, Omar and his team continued to provide aid under the threat of airstrikes and artillery fire. His courage and commitment to the humanitarian cause should serve as an inspiration to all of us.
To support Omar's work, click here.