Syrian teenager Abdul Aziz lives with his family in a refugee camp in Lebanon. He was born with a hole in his heart and is completely bedridden. He needs constant care. His mother has to wash and dress him each day, and help him to the toilet. She is heavily pregnant with another child.
The mattress Abdul lies on 24 hours a day is so thin that he can't sleep on his back because the hard ground beneath leaves him with bruises. He stays awake for hours each night, forced to lie on his front, tears trickling down his face.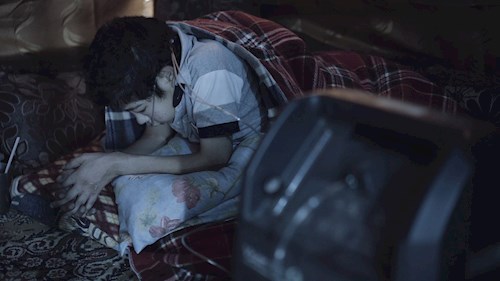 A family in crisis
Abdul's father Mohammed is desperate to find work to pay for his son's medical care. However, work for Syrian refugees is scarce and in the winter, it's impossible to find any employment at all. The family are forced to borrow money and they're sinking deeper into debt. If they don't pay the land rates, they will be evicted.
Abdul's parents are trying to ration the little food and fuel they have left, but they're being forced to make the terrible choice between feeding their children and keeping them warm. Abdul Aziz can't move from his bed, so it's even more important that he's protected from the freezing winter temperatures.
This winter could be their last
This Syrian family's life is already desperately hard. Now winter has arrived, it's going to become unbearable. The roof of their makeshift shelter has begun to leak, allowing icy rainwater to drip inside. It urgently needs to be repaired or Abdul Aziz, lying on the cold ground, could become dangerously sick.
Without immediate intervention, this vulnerable family could easily freeze or starve to death. The winter months are particularly deadly for disabled children like Abdul, pregnant women and the elderly. If help does not come, this winter could be their last.
The biggest displacement crisis worldwide
The Syrian conflict, now in its seventh year, has created the largest displacement crisis globally. 6.3 million people are currently displaced within Syria alone, and millions more have been forced to flee to refugee camps in neighbouring countries of Jordan, Lebanon and Turkey. In Lebanon, there are over 1 million Syrian refugees, are living in substandard shelters constructed from scrap materials, that leak and provide little protection from the elements.
Food insecurity is above 90% among Syrians in Lebanon. Female-headed households are the most vulnerable. Many families are being forced to cut back on essentials like healthcare and education, borrow money at exorbitant rates of interest and even send their children out to work. Child marriage among Syrian refugee girls is becoming increasingly common. With food and fuel in such short supply, winter is especially tough for refugees who can't get warm or find enough to eat.
Help us stop a killer this winter
There are so many families like Abdul Aziz's in desperate need this winter. For refugees who have lost everything, the bitter weather can be a cold-hearted killer. As temperatures drop, we must act fast to prevent innocent lives being lost.
Human Appeal is working tirelessly on the ground in Syria, trying to provide for those in the greatest need. But we can do nothing without your help.
Just £250 will help families like Abdul Aziz's stop freezing rain and snow from leaking into their shelters with protective plastic sheets. £165 will provide a refugee household with food and other winter survival essentials including blankets and warm clothing. For just £65, you can feed a family of four for a whole month with our Winter Food Pack.
DONATE NOW