For millions of people around the world, winter can be a killer. Sub-zero temperatures, freezing rain, sleet and snow are deadly when you don't have a home to go to, warm clothes to wear or shoes on your feet.
This year, 65.6 million displaced and desperate people are at risk during the coldest months and our world is facing the biggest humanitarian crisis since 1945. Conflict has forced thousands of families to flee their homes, in Syria, Iraq, Yemen and Myanmar.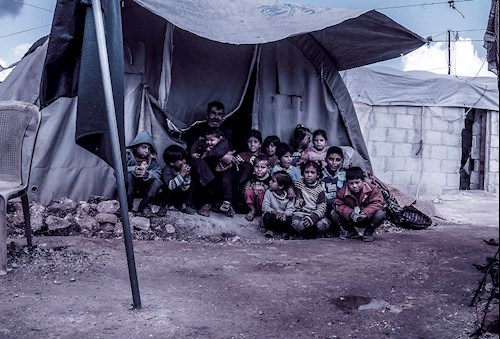 The Rohingya Muslims seeking safety across the Bangladeshi border are sleeping on the filthy ground, exposed to the elements. They have nothing but the clothes on their backs. Living conditions are dire, with no food, clean water or basic healthcare. Small children are easy targets for human traffickers who circle the camps like vulture. 
Conflict-affected families still trapped inside Syria are living in the shells of bombed-out buildings. Ongoing violence means that they can never feel safe and wake up every morning wondering whether this will be their last. Syrian refugees sheltering in neighbouring countries are unable to keep warm or dry in makeshift shelters.
In Yemen, the cholera epidemic has affected nearly 1 million people and every 10 minutes, a child under the age of 5 dies from a preventable illness. Humanitarian agencies are struggling to deliver vital shipments of food and medical supplies, and 17 million people are going hungry. New mothers are so malnourished that they have no milk to give their starving babies. The cold weather will only bring further suffering and misery.
Families in Palestine are fighting to stay alive this winter, unable to heat their homes or find enough food to eat. In Gaza, many homes are still in a state of disrepair after the 2014 conflict. The wind and rain will find a way inside, through holes in roofs and walls, putting families at risk of serious illnesses like pneumonia.
On the streets of our home city of Manchester, 4,428 people don't have a roof over their heads. 189 of them are forced to sleep on the freezing streets, wrapped in thin sleeping bags or cardboard boxes.
At Human Appeal, we believe that every life is precious. That's why we're launching our #WinterKills campaign, so that we can work together to stop winter taking innocent lives. We aim to help millions of people to survive winter by distributing vital necessities like nutritious food, blankets, mattresses, fuel and warm clothing.
However, we need your help to make this goal a reality. Let us come together in our shared humanity and reach out to those in need this winter.
Othman Moqbel, CEO of Human Appeal