The Syrian conflict has raged for more than six years, devastating infrastructure and taking the lives of hundreds of innocent civilians. Access is still a problem for NGOs and humanitarian agencies in besieged and hard-to-reach areas, where people are often in the most desperate need.
In a conflict situation, things can change very quickly. Even over the past month, significant developments have been reported in several areas across the country.
The city of Raqqa
On 17th October, the US-backed Syrian Democratic Forces (SDF) reported that they had taken full control of the city of Raqqa, an opposition stronghold for the last three years. After four months of military action, some reports suggest that up to 3,500 civilians have been evacuated from the city.
However, due to lack of access to the city, the UN cannot verify first-hand that any families have been evacuated. They estimate that up to 7,000 civilians could remain trapped in Raqqa, facing exposure to mines, snipers and military violence.
The Homs province
According to the UK-based Syrian Observatory for Human Rights, at least 116 people have died in the three weeks that Qaryatain, in the Homs province, was under the control of Syrian opposition groups. Qaryatain was first taken by opposition groups in August 2015, and at the beginning of October 2017, these forces regained control, leading to the tragic loss of life for more than 100 people.
The Deir-ez-Zor governorate
The ongoing violence and airstrikes in the Deir-ez-Zor governorate have threatened the lives of thousands of innocent families. The UN estimates that 63,902 people have been forced to flee their homes between 1st September and 8th October 2017.
The Syrian conflict has caused the biggest global displacement crisis in our lifetime, and as long as fighting continues, communities will be uprooted and people will have no choice but to abandon their homes. Camps for Internally Displaced Persons (IDPs) across Syria are struggling to accommodate all the newcomers who have fled the Deir-ez-Zor governorate. Services and resources are under increasing pressure.
North eastern Syria
The UN maintains that civilians across north-eastern Syria remain vulnerable to serious protection risks. Opposition groups are reportedly preventing frightened people from fleeing the area.
The food crisis in Syria
On Monday 23rd October, images released by the news agency AFP showed a starving baby who later died in a suburb of Damascus controlled by opposition groups. Sahar Dofdaa was only one month old and weighed less than 2kg.
Syria is experiencing a severe food crisis. 9 million people are food insecure, which means that they can't find enough food to eat each day. Of that number, 7 million are acutely food insecure.
The conflict has disrupted livelihoods and destroyed crops and farmland. Food production has hit an all-time low, driving food prices upwards. A week's supply of basic food items is now eight times more expensive than it was before the crisis. Almost 80% of households in Syria are struggling to find money for food or trying to cope without eating. 
What are Human Appeal doing in Syria?
Ongoing military operations have severe consequences for the significant numbers of civilians still living in Syria. Human Appeal is working in many regions of the country and we will continue to distribute lifesaving aid to those who need it most.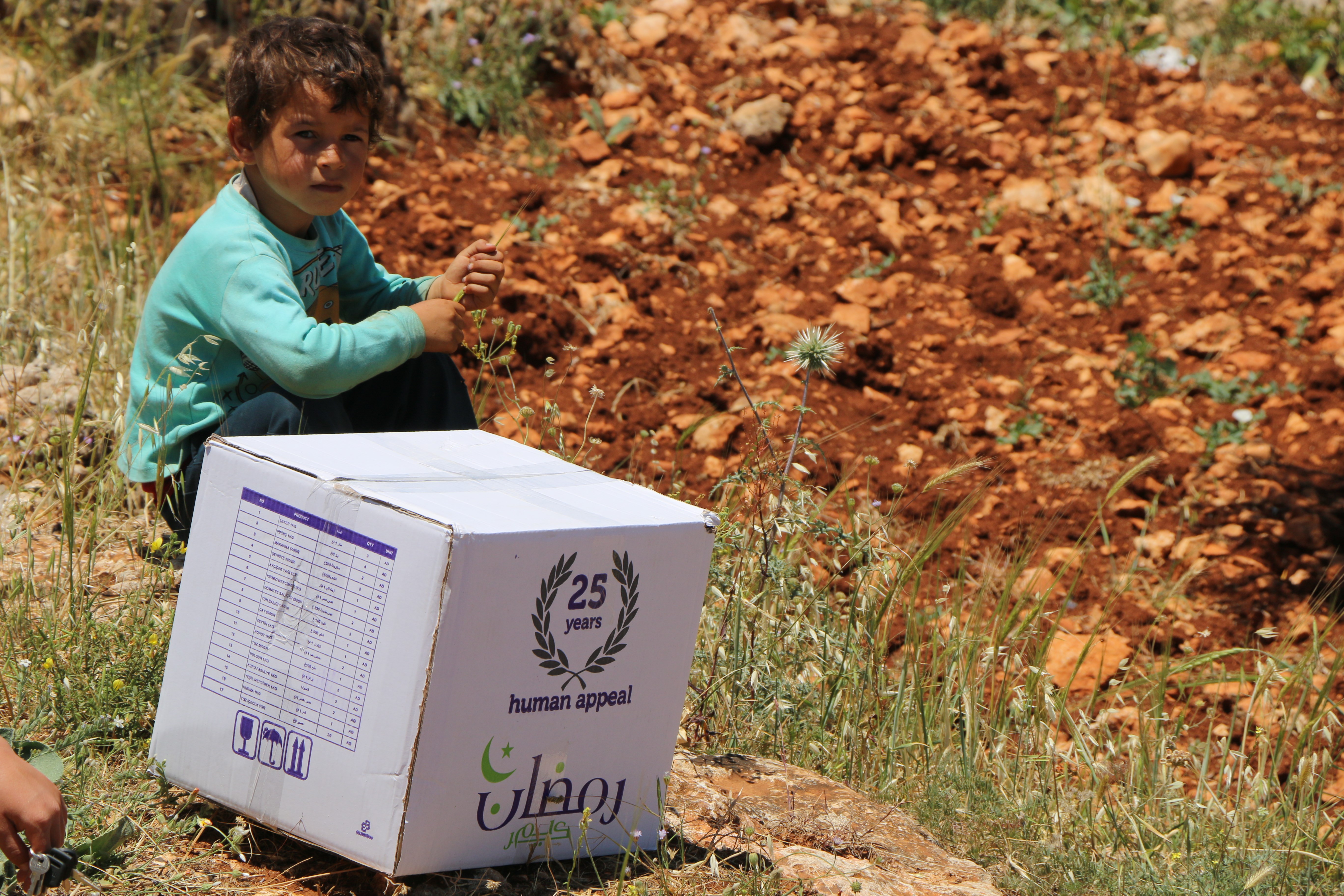 Our large-scale food security project has supplied 37,300 tonnes of flour to Syrian bakeries over three years, allowing them to continue producing bread.
We are continuing to support the Al-Iman Hospital for women and children in association with UNOCHA and Americares. In 2016, 150,000 vulnerable women and children had access to healthcare at this facility, and many were reached through our mobile health clinic.
In 2016, we improved access to education for 1,400 children in 30 IDP camps (funded by UNOCHA) and provided better quality formal and non-formal education for over 80,000 children in Northern Syria (funded by UNICEF).
How can I help?
We need your support to continue this vital work in Syria. Poverty-stricken families are struggling to afford any food at all. Malnutrition is the reality for thousands of people, particularly pregnant women and young children.
For just £65, you can provide a vulnerable family with a food parcel that will last them a whole month. Your donation can mean the difference between life and death for a Syrian family. The time to act is now.
Donate now