Shredded Goat Tacos
Yield: 4 servings 
Young goat meat, known as chivo in Spanish, is a delicacy commonly found in Mexican cuisine. I see it on restaurant menus all the time. Goat is not as meaty as lamb, but when spiced and cooked well, it's absolutely delicious—especially on tacos. 
1–2 tablespoons extra virgin olive oil
1 pounds goat shoulder, sliced into 1/2-inch cubes
1 Vidalia or yellow onion, thinly sliced
1 green bell pepper, cored and thinly sliced
3 roma tomatoes, roughly chopped
3 roasted or raw cloves garlic, roughly chopped
1 teaspoon ground cinnamon
1/2tablespoon red pepper flakes
1/2 tablespoon ground cumin
1/2 teaspoon crushed dried epazote (optional)
2 cups water
8 corn tortillas, warmed, for serving
Sliced fresh radish, salsa, sour cream, sliced avocado, chopped cilantro, minced onion, and hot sauce, for serving.
In a large sauté pan over medium heat, warm the oil. Add the meat and cook on 1 side for 5 minutes, until browned. Turn and repeat until all sides are browned.
Add the onion and pepper to the sauté pan and sauté for 5 minutes, until both are softened. Add the tomatoes, garlic, cinnamon, red pepper flakes, cumin, and epazote, if using. Stir and cook for 1 to 2 minutes.
Raise the heat to medium–high and add the water. Bring to a boil. Immediately reduce the heat to low, cover, and cook for 2 to 3 hours, until the meat is easily shredded with a fork. Remove from the heat.
Transfer the meat and a little of the cooking liquid to a serving bowl and, using 2 forks, shred it. Serve hot with the warmed tortillas and the radish, salsa, sour cream, avocado, cilantro, onion, and hot sauce on the side.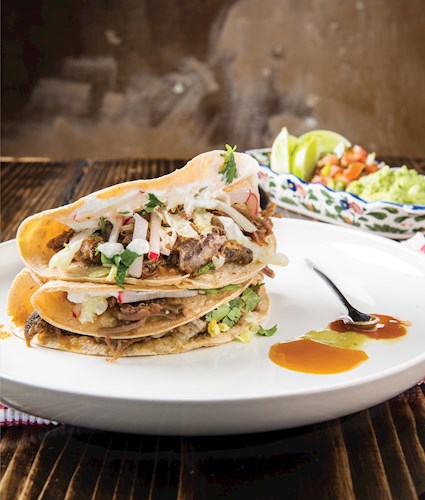 Reprinted with permission from My Halal Kitchen by Yvonne Maffei, Agate Surrey, 2016
Raspberry Flan 
Yield: 6-8 servings
Special equipment: 9-inch × 13-inch pan, 12 ¼-inch × ½-inch × 2 ¾-inch loaf pan, offset spatula or non-serrated knife, whisk
This recipe is a bit of a twist on traditional flan, which has the same base flavors but no fruit on top. 
1¼ cups raw cane sugar, divided
¼ cup room-temperature water
1 ⅔ cups whole milk
1 cup heavy whipping cream
2 teaspoons Vanilla Extract (see recipe on p. 56) or 1 Bourbon vanilla bean pod, slit lengthwise
5 whole large eggs
2 egg yolks
1 quart boiling water
1 pound fresh or frozen raspberries
¼ cup granulated sugar
2 tablespoons fresh lemon juice
Preheat the oven to 325°F.
In a small saucepan over medium heat, combine 1 cup of the raw cane sugar and the room-temperature water and bring to a boil. Cook, lifting and swirling the pan to help the sugar dissolve, for 4 to 5 minutes, until the syrup turns a dark caramel color. Remove from the heat and immediately pour the syrup into a loaf pan.
In a medium saucepan over medium heat, combine the milk, cream, and Vanilla Extract (if using the vanilla bean, use the back of a nonserrated knife to scrape the seeds into the saucepan). While whisking vigorously as it cooks, slowly bring the mixture to a boil. Immediately remove from the heat and continue to whisk until the mixture thickens. Cover and set aside for 20 minutes.
In a large mixing bowl, combine the remaining ¼ cup raw cane sugar, eggs, and egg yolks and whisk vigorously for 2 to 3 minutes, until smooth and creamy. Slowly, in ½ cup increments, add the warmed milk–cream mixture to the mixing bowl while whisking constantly. Carefully transfer the custard to the syrup-lined dish, cover with foil, and set aside.
Place a 9-inch × 13-inch cake pan on the middle rack of the oven and pour the boiling water into it. Place the foil-covered loaf pan in the middle of the cake pan (the water in the cake pan should come up to about the same level as the custard in the loaf pan). Bake for 40 to 45 minutes, until a non-serrated knife inserted 2 inches from the edge of the flan comes out clean. Remove from the oven.
Loosen the flan from the loaf pan by sliding an offset spatula or non-serrated knife around the rim of the pan. Place a large platter over the loaf pan and quickly invert the pan; the flan should release onto the platter. Set aside to cool completely.
Refrigerate for 6 to 8 hours or overnight.
To make the syrup, in a medium saucepan over medium heat, combine the raspberries, granulated sugar, and lemon juice. Stir until well combined. Bring to a boil.
Reduce the heat to low and cook for 10 minutes. Remove from the heat and set aside to cool to room temperature.
Refrigerate the syrup overnight.Serve the flan whole on the platter with the chilled syrup poured over it or slice the flan into long, thick pieces laid flat on dessert plates with the syrup drizzled on top.
Reprinted with permission from My Halal Kitchen by Yvonne Maffei, Agate Surrey, 2016
Golden Peach Punch
Yield: 12 servings
Special Equipment: Food processor fitted with the "S" blade or blender, whisk
If you're ever in need of a great party drink for summer guests, this is it. It's refreshing, sweet, and captures the essence of seasonal summer fruits. It's a great choice for an eid party, as it can be placed in a large punch bowl and guests can serve themselves. It's best to prepare this just before guests arrive, as the sparkling water will lose its fizz if prepared in advance.
4 very ripe peaches, peeled and pitted
1 quart white grape juice (not from concentrate)
21/2 cups sparkling water
2 cups ice
6 strawberries, hulled and thinly sliced, for serving
1 peach, peeled, pitted, and sliced into rounds, for serving
Place the peaches in the bowl of a food processor fitted with the "S" blade or a blender. Purée them for 1 minute, until the texture is completely smooth.
In a large punch bowl, combine the grape juice and sparkling water. Add the peach purée and whisk until thoroughly combined.
Add the ice and float the strawberry slices and peach rounds on top of the punch. Serve.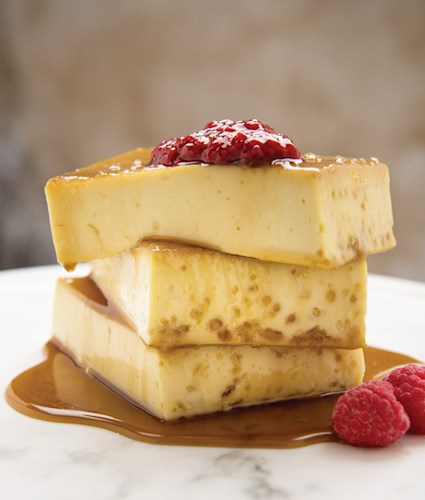 Yield: 6 servings
A nourishing Moroccan soup that invites you to enjoy a savoury and aromatic experience, perfect to end a long day of fasting during any season of the year.
4 tablespoons olive oil
1 yellow onion, minced (about 1/2 cup)
2 celery stalks, diced small
4 tomatoes, diced
3 cloves garlic, minced
2 tablespoons tomato paste
1 cup cooked brown lentils
2 cups cooked chickpeas
2 teaspoons ground cumin
1 teaspoon ground coriander
1.5 teaspoons smoked paprika
1/2 teaspoon ground cinnamon
1/8 teaspoon red pepper flakes (optional)
1.5 teaspoon sea salt
1 teaspoon freshly ground black pepper
2-3 tablespoons fresh mint leaves, chopped
2-3 tablespoons fresh parsley leaves, chopped
2-3 tablespoons fresh cilantro stems and leaves, chopped
1 carton (32 fl oz) Classic Culinary Lamb Broth by Saffron Road
1 cup mixed fresh greens (i.e. spinach, kale, Swiss chard)
1/2 cup orzo or small pasta noodles
fresh lemon or lime wedges (optional)
In a large Dutch oven, heat the olive oil gently. Add the onions and cook until translucent. Add the celery stalks and do the same.
Add the tomatoes and cook down for 1-2 minutes then add the garlic and tomato paste. Stir to combine then add the lentils, chickpeas and all of the spices. Add the fresh herbs, too.
Pour in the lamb broth and bring the entire mixture to a boil. Reduce the heat to medium-low and cover, cooking for about 20 minutes.
Add the fresh greens and orzo and gently stir to combine. Raise the heat slightly and let cook for 10-12 minutes, or the amount of time given for the type of pasta/noodle being used.
When finished, remove from heat immediately.
Serve with a lemon or lime wedge for guests who would like to squeeze one into the soup before eating.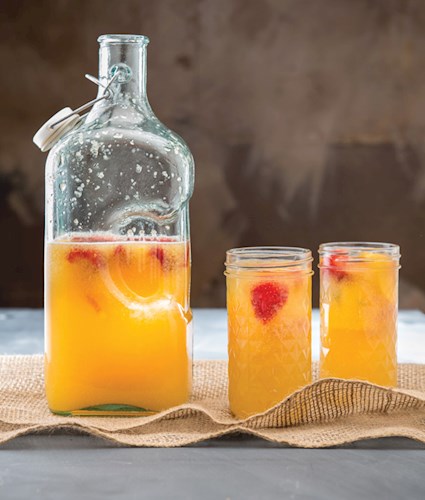 Reprinted with permission from My Halal Kitchen by Yvonne Maffei, Agate Surrey, 2016