Human Appeal is celebrating being named "Charity of the Year" at the British Muslim Awards on Wednesday 25th January. Human Appeal, a Muslim faith-based charity from Greater Manchester, won for their outstanding achievements and contribution to British society. One of the projects highlighted was their Wrap Up Manchester project, where they collected over 1,500 coats and items of clothing for the city's homeless population. 
In 2016, Human Appeal supported a maternity hospital in war-torn Syria, provided emergency aid to people fleeing violence in Aleppo and Mosul, and delivered food to starving families in areas of Syria under siege. The humanitarian aid organisation also helped disaster-prone areas of South Asia become resistant to droughts and harsh environmental conditions, and worked to reduce child and maternal mortality throughout Asia and Africa.
The fifth British Muslim Awards were held at The Athena in Leicester and celebrate the role the UK's Muslim population plays in British society. Thousands of British Muslims were nominated for their work in various sectors such as business, sports, arts, culture and much more.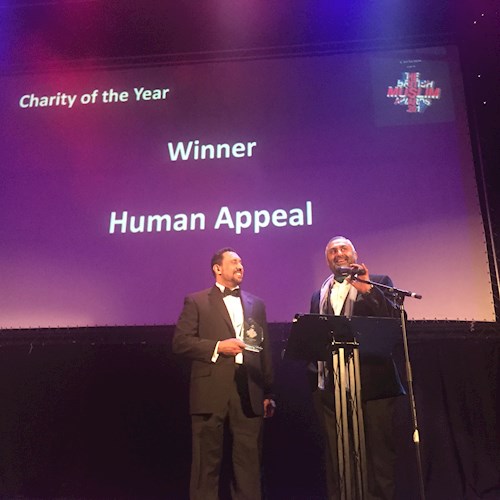 Othman Moqbel, CEO of Human Appeal, said of the charity's win: "We are so honoured to receive this award and we want to thank the panel for the amazing honour and, most of all, we would like to thank all of our supporters for their generosity and compassion. 
"2016 saw Human Appeal celebrate our 25th anniversary and I can't think of a better way to cap it off then with this prestigious award. In 1991, a group of students from Manchester saw the drought ravaging East Africa and went over to Sudan with some aid. From there they sponsored children orphaned by the drought. Human Appeal was born. 20 years later we were a humanitarian aid agency with annual donations of £5 million, providing help for those who needed it, wherever we could.
"And then we grew more and more, and grew faster, bigger and better. In 2016 we took £30 million in donations, our best ever year. On top of that we delivered £20 million worth of aid in Syria from institutional donors, such as UNOCHA and the World Food Programme. So my thank you for this award isn't from me, it isn't from Human Appeal's staff, it is from the millions from around the world and here in the UK who have been helped by our supporter's generosity." 
Mr Moqbel finished: "The British Muslim Awards highlights the incredible contribution the Muslim community makes to UK society. We, at Human Appeal, aim to help anyone in need, of any faith, in any location, whether they are sleeping on the streets of Manchester, cowering from bombs in Syria or starving in Niger. If there is someone in need of helping hand, Human Appeal are there to offer it and I'm honoured that the British Muslim Awards have recognised this."
Irfan Younis, from Oceanic Consulting who organised the British Muslim Awards, said: "We are humbled and honoured by the support from the public who have voted in their thousands, which resulted in an impressive list of finalists. The event aims to celebrate individuals and companies that contribute in making a better Great Britain."