19.08.2016
Human Appeal Backs UN Ceasefire
Human Appeal, a humanitarian aid charity based in Manchester, has backed the UN's calls for a 48 hour ceasefire in Syria and is encouraged by Russia and the USA's public support of the truce.
Moscow and Washington have both said they would support a UN backed "humanitarian pause" in hostilities for aid to reach people in Aleppo.
Human Appeal, based in Cheadle, have been working in Syria since the start of the conflict, providing food, access to clean water, healthcare, education and capacity building and training for the people hit by the conflict.
One of the projects Human Appeal is most well-known for in Syria is its flour distribution project. Since 2013, Human Appeal have distributed 42,000 tonnes of flour to 9.36 million people in Syria.
Othman Moqbel, CEO of Human Appeal, has said of the potential ceasefire, "We welcome any decision that reduces the violence. Organisations like Human Appeal are desperate to get aid to the people who are in dire need and a 48-hour break from violence will help make sure they get that."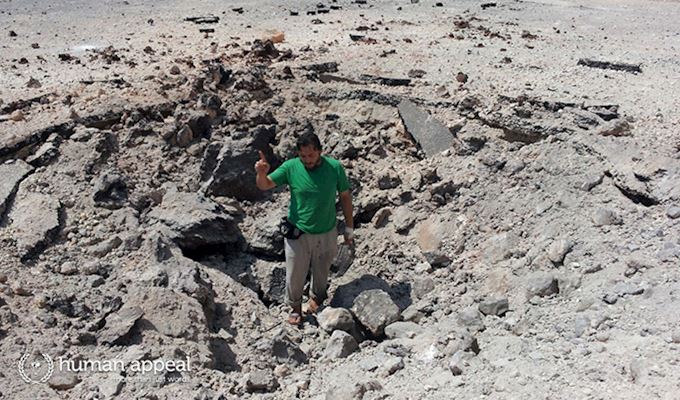 "However, the reality is that 48 hours will be nowhere near long enough to properly deliver aid to an area which has had its infrastructure too badly damaged.
Mr Moqbel finished "As recent images emerging from Syria have shown, it is not legitimate military targets being hit. It is innocent people. Doctors and patients – mostly women and children – in one of our hospitals were nearly hit this week by an airstrike."
One of the hospitals operated by Human Appeal in the Syrian city of Aleppo narrowly avoided being hit by an air strike on Sunday 14 August. Luckily there were no casualties, despite the bomb landing only a few feet away from the hospital's side entrance.
Following the attack, patients were evacuated to another hospital and staff were evacuated in stages. The bomb has left a crater that is two metres in length and five metres in depth.
The Human Appeal hospital in Aleppo is a maternity and paediatric hospital, serving an area of 250,000 people. Since Human Appeal opened the hospital in November 2014 it has treated over 8,500 children, 7,600 women and delivered 3,500 babies.