28.06.2016
Cambridge Conference on Global Food Security
Human Appeal recently attended a two day conference on 'Global Food Security' which explored the main challenges of feeding the world in the face of increasing poverty, unequal distribution and climate change.
The conference on Global Food Security, held on 23-24 June 2016, was held at the University of Cambridge and was attended by academia from the University of Cambridge, Oxford and Warwick, representatives of research institutes, such as the International Crop Research Institute for the Sub Arid Tropics (ICRISAT) and INGO's including Oxfam and Farm Africa.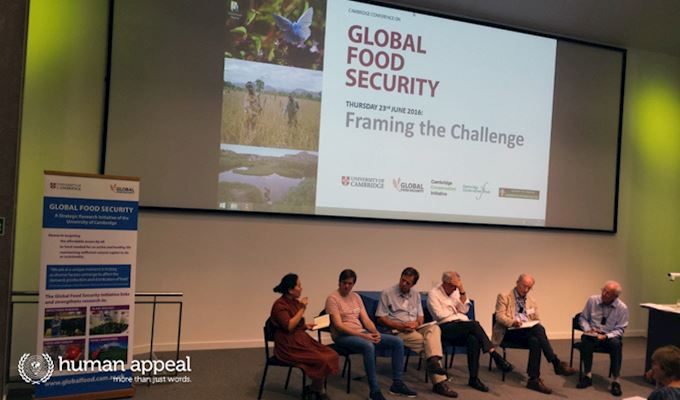 The conference was split into two parts. The first was focused on 'Food security, sustainability and conservation' with the second on 'Economics, culture and the politics of food'.
Javeria Hashmi, Programmes Coordinator at Human Appeal who attended the conference, said: "The issue of food insecurity is mainly caused by poverty and unequal distribution. There is also the problem of calorie hunger, where the poor either do not have access to the 'optimum food plate' or lack self-sufficiency. The situation is further exacerbated by the impact of climate change, particularly in the dry tropics where yields have reduced greatly due to severe drought."
"No one sector can work in isolation. It is only with close collaboration that communities in the global south can be made resilient to the food crises caused by climate change and extreme poverty," Hashmi added.
Food insecurity is one of Human Appeal's main focuses. Through developing partnerships with specialist organisations and research initiatives, Human Appeal believes it can provide the best possible solutions to those most in need across the world.