Legendary footballer Pele was in Manchester this evening (Saturday 4th June) at an event hosted by the city's humanitarian aid charity, Human Appeal. At the charity event, Pele gave a Q&A and talked about his recently passed friend Muhammed Ali, England wonderkid Marcus Rashford and the time Manchester United wanted to buy him.
At a charity event to mark, Manchester-based charity, Human Appeal's 25thanniversary Pele spoke candidly to Jim Rosenthal. On the passing of boxing legend Muhammad Ali, he said:
"He used to say he was my brother. We had many opportunities to be together in time… We worked together for children in UNICEF." 
"He [Ali] once told me "Football is more beautiful than boxing, but I am more beautiful than you." Pele also told the Human Appeal audience of the last time he saw the boxing legend "I saw him last year.  We went to his house, we did an interview for a hospital in Brazil – a children's hospital I work for."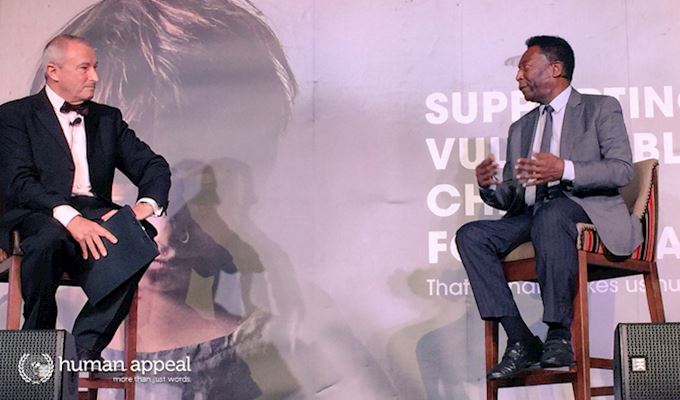 With Human Appeal, the event's host, being based in Manchester Jim Rosenthal asked Pele if he had ever had the opportunity to play for Manchester United or Manchester City, he explained:
"Yes I had an offer in, I think in '68. The late sixties. The team I used to play for [Santos], said "we have had a number of calls to play in Manchester for Manchester United". They asked "Do you want to play there?" Back then Santos was one of the best teams – Santos and Real Madrid. So I said, no, I will stay."
And, continuing on the Manchester theme, Pele was asked about young Manchester United talent Marcus Rashford and compared Rashford's breakthrough at an early age to his own (Pele made his debut for Santos aged 15).
"He [Rashford] has a great future. There's no doubt. I had a little bit of luck. Because in my time, they didn't have the information, they didn't have the TV. Now people know when they are going to play anywhere, it's tough. There's no doubt he's a very good player."
When asked why he was at the event, hosted by Human Appeal, who work across the globe to help the world's neediest children and, tonight, were trying to raise money to help street children in Senegal, Pele said:
"I am here to help the children. God was so good to me, he gave so much to me. So I want to give back to the children." 
And Jim asked about Pele's health, following his recent hip surgery.
"I feel good. Everybody knows, I played 25 years with my team Santos, then I moved to New York Cosmos for 5-8 years. All my life I didn't have a bad injury. I had a problem with my knee ligaments, but I never had a big problem. Now I have stopped playing I'm getting injured."
Jim Rosenthal joked if Pele was willing to play the second half in tomorrow night's Soccer Aid match at Old Trafford, Pele responded in a similar tone:
"Tomorrow, I don't promise I can play. But I have two months before the Olympics in Brazil."
The night helped raise over £70,000 for Empire of the Children, a project which aims to give shelter, protection and a future to children living on the streets of Dakar, Senegal. 
Human Appeal CEO, Othman Moqbel, said of the situation in Dakar: 
"All of these children are extremely vulnerable and in need of protection from hunger, child trafficking, slavery, forced begging and sexual abuse. There are around 50,000 children living rough on the streets of Dakar. We are honoured and thankful that Pele would come and speak to us, to help Human Appeal give these children hope of a better tomorrow." 
"Nobody has contributed more to the footballing world than Pele and few have contributed to making to making the entire world a better place than him, also."
Manchester's Police and Crime Commissioner Tony Lloyd and North MEP Afzal Khan, a former trustee of Human Appeal, both spoke highly of Human Appeal's amazing work they have been doing for 25 years from their base in Manchester and the charity's CEO, Othman Moqbel, gave a passionate speech and paid tribute to both Pele and the late Muhammed Ali.