Human Appeal is announcing a £100,000 appeal to provide emergency relief for drought-stricken Somaliland and Puntland as part of a co-ordinated campaign with the UN and international aid agencies.
The campaign, launched as part of a combined effort with a $100m budget, aims to support 385,000 people on the verge of starvation in the two regions.

Human Appeal were part of a cohort of charities discussing their involvement in the disaster at a press conference held in London, on April 14th at Portcullis House, Westminster, also attended by Diane Abbott, MP, Shadow Secretary State for International Development.

Around 1.7 million people desperately need humanitarian assistance to survive, that's nearly 40% of the 4.6 million total population.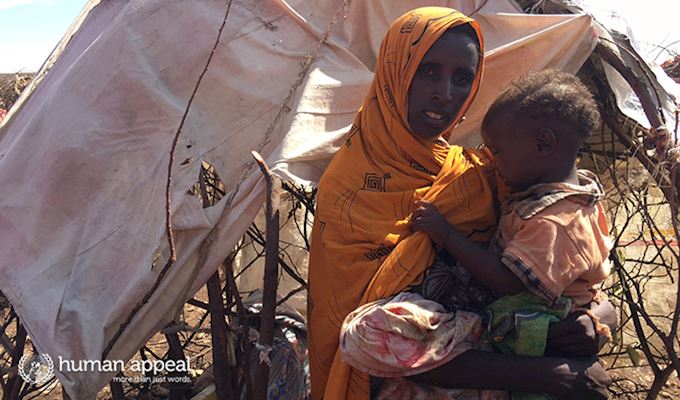 "Weather conditions linked to El Nino contributed to a failure of the 2015 rains across large areas of Somaliland and Puntland," said Diane Abbott, MP. "People are already dying from hunger and thirst, and the impact will be catastrophic if the international community does not step up its response."

NGOs within the Muslim Charities Forum, including Human Appeal, visited Borama, the main town in Awdal. Awdal is a region of Somaliland that borders Ethiopia and Djibouti and is worst affected by the drought.

"We visited displaced people's camps where more than 1,200 hungry men, women and children had gathered," Ms Abbott continued. "Their only shelter is rough bivouac structures they have made themselves – bits of fabric and plastic draped over sticks, providing minimum privacy and protection from the elements."

"Animals are dying in their thousands, and the people who depend on them have started starving to death too. We spoke to families who had 500 or more animals three months ago, and now are left with 20 or fewer. For people who rely on their animals for meat, milk and trade, it's the equivalent of losing your entire life savings.

Members of the Muslim Charities Forum are now announcing how they will respond to the crisis and hope that by highlighting this emergency they will encourage others to act too.

Human Appeal's campaign will involve funds for water, sanitation projects and is sending proposals to various donors to fund drought resilience and water infrastructure programmes.