Over the past four days, more than 200 civilians have been killed in a wave of intense airstrikes on Eastern Ghouta. On Thursday, at least 54 people, including 15 children, died in attacks on the besieged area.
The United Nations called for an immediate ceasefire in Syria due to grave humanitarian concerns. UN war crimes experts are also currently investigating reports of chlorine gas-filled bombs being dropped on civilians in Idlib and Eastern Ghouta.
Air strikes are ongoing, and there are people trapped under rubble as warplanes fly over residential neighbourhoods. There is no safe place for civilians to run to.
Hostilties have intensified across Syria
More than 150 airstrikes have taken place in Idlib since Sunday and civilian homes have borne the brunt of the onslaught. Two major hospitals have been damaged and dozens of buildings levelled. Medics have claimed that 9 people required treatment for chlorine exposure after a gas-filled bomb was dropped from a helicopter.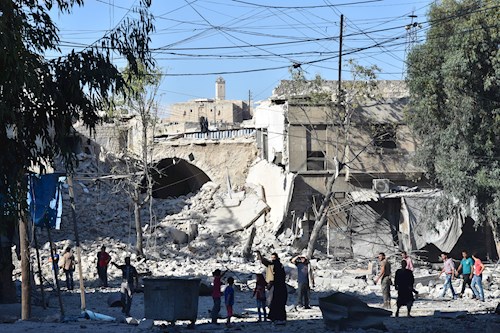 In both Ghouta and Idlib, shelling and artillery retaliation from all sides is putting innocent civilian lives at risk. Emergency rescue services are stretched to breaking point as bombs continue to fall. UN officials have called for a ceasefire so that the sick and wounded can be evacuated from 7 areas of concern, including the northern Kurdish-led Afrin region.
Eight years of violence and misery in Syria
The Syrian conflict is now entering its eight year and has caused unimaginable suffering to millions of innocent people. In Syria alone, 6.3 million people have been forced to flee their homes due to air strikes and gunfire. 5.5 million have fled the country and are living as refugees in foreign nations, often in squalid conditions. Innocent children and young people make up more than half of those displaced.
In the winter, families are hungry, cold and hopeless. Currently, there are 13.5 million people living in heart-breaking poverty and in desperate need of humanitarian assistance. 9 million cannot find enough food to eat each day.
This protracted civil war has had profound humanitarian consequences. It has destroyed Syria's infrastructure, decimated the country's economy and caused the deaths of hundreds of thousands of people. It has been further complicated in 2018 by the major offensive from Turkey against the Kurdish YPG militia.
The people of Syria need your help
Human Appeal has been on the ground in Syria since the beginning of the conflict in 2011, providing lifesaving aid to those who need it most. We understand the challenges faced by displaced families living in the shells of bombed buildings and in thin nylon tents that do little to keep out the winter cold. We believe that no parent should be forced to choose between feeding their little ones and keeping them from freezing.
For £250, you can provide a vulnerable Syrian family whose home has been destroyed with the shelter essentials they need to keep out the wind, rain and snow this winter. Just £165 will give a family the gift of food, warm clothes, blankets and heating fuel so they stay warm and fed in the toughest months of the year.
You can save a precious life today.