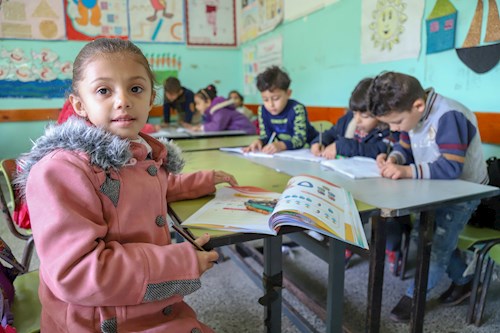 This UN Day of the girl we're reflecting on the four Muslim women who inspired change in history.
Every young girl deserves to have her voice heard. Every girl deserves to be nurtured in a safe environment where they can learn and grow into courageous and ambitious women that are ready to change the world. Even when Islam was established, it emphasised the rights of women and held them at the highest status at a time where young girls were buried alive.
Yet as we mark this International Day of the Girl 2020, Covid-19 is still ripping through the globe, and it's hitting women and girls the hardest. We're seeing more young girls struggling with poverty, denied their right to education, and more pushed into child marriages. The pandemic is not just affecting our health, but it's also silencing the voices of young girls across the world and reversing decades of progress made to eradicate inequality. This year's theme for the Day of the Girl is "my voice, our equal future," and we're encouraging all young girls from all works of life to raise their voice and become change-makers. And what better way to inspire others than reflecting on the incredible Muslim women who – despite the challenges they faced – became change makers, fighting for the rights of others even at a very young age. Therefore, in no particular order, here are four strong and amazing Muslim women that every young girl should aspire to be like:
1. Fatima al-Fihri:
Fatima al-Firhri's devotion to serve her community and Allah SWT makes her an extraordinary and inspirational woman for all young girls and educators alike. Why? Well, she founded the first university and Madrasah in the world! Yes, it was a Muslim woman who pioneered a model of higher learning coupled with the issuance of degrees of various levels. Al-Qarawiyyn mosque and university in Fez, Morocco, was build and founded by Fatima with the inheritance she received from her father. The world is richer in knowlege of Fatima's leadership and courage.
2. Rufaida As-Alamla
Rufaida As-Alamla was one incredible woman whose legacy every young girl in today's world should follow. Not only was she one of the earliest people to accept Islam in Medina, but Rufaida was also the first female Muslim nurse and surgeon.
Her kind and empathetic nature led her to become an expert healer who provided care to injured soldiers during the battle of Al-Khandaq (The Trench) and trained other women in Madina to continue her work. Rufaida also developed the first-ever mobile care units in Madina that were able to meet the medical needs of the local communities.
3. Khadija Daughter of Khuwailid (RA)
Khadija (RA) is the very essence of a powerful, strong, and successful woman. Born in 555AD in present-day Saudi Arabia, Khadijah was well ahead of her time. She was not just the wife of our beloved Prophet (SAW), rather she was also a successful entrepreneur and leader who had many men, including the Prophet (SAW), working with her.
She was one of the wealthiest women in the Arabian Peninsula, yet her kind, compassionate, and supportive nature kept the Prophet (SAW) motivated during his toughest times. In fact, she was the first person to believe in his prophet hood and the first person to enter Islam. Her status with Allah SWT was so high that angel Jabreel (AS) descended (to the Prophet SAW) to give her greetings from Allah SWT himself, with the glad tidings of a palace in paradise.
4. Nana Asma'u
A poet, princess, and teacher, Nana Asma, is one of the leading and striking Muslim women in history that paved the way to create a brighter future for all young girls today. Nana was the daughter of the Islamic Sunni Caliphate in West Africa in 1793 and received a first-class education. However, her poetry really put her on the map as many of her poems advocated for women leaders and young girl's rights. Nana also traveled to rural villages throughout West Africa and educated women, providing them with the knowledge that they could then pass on to other young girls. Without even knowing it, we continue Nana's legacy today by giving young girls the education and skills they need to create a more equal future.
Of course, these are just a few of the many inspiring Muslim women throughout history. Like them, we need to continue to challenge the status quo, breaking down barriers and demanding that women and girls have equal access to opportunities to enable them to learn, develop and grow. With so many women disproportionately battling poverty, disease, conflict and inequality, we must take action for millions of women and girls around the globe who deserve so much better.
What Human Appeal is doing to help young girls create an equal future
This international UN day of Girl 2020, Human Appeal continues to give young girls the education and skills they need to become leaders and to create a life away from poverty through various projects, including our Orphan sponsorship and education programmes. You can help us to continue amplifying the voices of all young girls and help them to create an equal future by donating today. 
Donate now