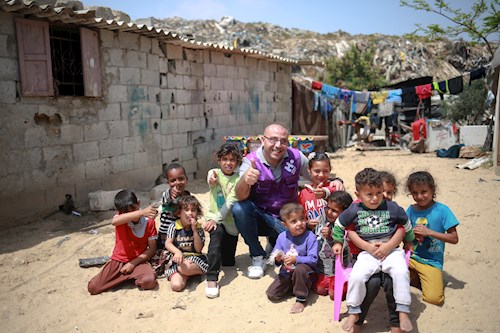 As lockdown continues in Gaza, COVID-19 cases continue to rise and hospitals are being left to deal with the fallout, all while suffering from 20-hour power cuts.
Human Appeal continues to carry out emergency relief, and we wanted people to hear the reality on the ground directly from one of our team members on the ground, who risk their own lives every day to improve thousands of others.
Tell us about yourself and your role?
I'm Mahmoud Al-Bayed, and I'm an Operations Support Officer at Human Appeal. I'm 42 years old, originally from Gaza city, and I have three kids: two girls and a boy.
Why did you choose this job and Human Appeal in particular?
I've worked in the humanitarian sector for a while, and I chose to join Human Appeal back in 2017 because through their work with the world's most vulnerable people and orphans, I saw their values and knew they were ones I shared. Seeing the work Human Appeal was doing in Gaza too made me want to be a part of their mission to improve people's lives here.
Is there any particular experience that has stuck in your mind?
In Al-Nasser hospital for children I met a boy with chronic kidney failure. We kept in touch afterwards, and hearing about his deteriorating condition, how he felt he couldn't live with his illness, that was really difficult.
Human Appeal was able to help him with some of his medical needs. He was so happy we were able to provide him with some help, but I wish we were able to do even more.
What are you seeing on the ground in Gaza at the moment?
Unfortunately, I can't say I am seeing a situation that is improving. Our health institutions really need vital support. Hospitals were already struggling with the demand from people injured in airstrikes, but the number of people now needing help because of COVID-19 has overwhelmed them.
Our water system is filled with other diseases that are also spreading quickly throughout the population. 97% of it isn't fit for human consumption, but so many people have little choice.
I see damaged homes and people left to fend for themselves on the street. Gaza simply can't afford to go through another crisis like this without support from outside, so I am glad that Human Appeal has responded to the call.
How worried are you about the spread of COVID-19 in Gaza?
We're the most densely populated place on earth, and a virus that is passed on through close contact is likely to wreak havoc. We've already seen cases go up quickly, and sadly fatalities too. We're in lockdown, but that hasn't stopped the virus spreading and killing indiscriminately. We're in desperate need of medical intervention.
What is Human Appeal doing in Gaza right now?
Human Appeal has carried out a needs assessment for hospitals in dire need of medical supplies, and is working to make sure that people get them. Supporting hospitals throughout the power cuts and mass influx of patients is vital to helping us get through this.
We are also working to make as much of Gaza's water supply as safe as possible. We want to chlorinate over 300 wells and reservoirs, 26 water lifting and booster stations, nearly 3,000km of water networks and carrier lines and 48 water desalination plants. Human Appeal is the only organization carrying out this kind of work.
Any final message for people who read this?
To the world and to Human Appeal's generous donors: Gaza needs your mercy and your help.
Help Human Appeal to help us. Donate now.
Donate now