Wrong.
Frostbite isn't limited to mountaineers climbing Everest, or people living in areas that are freezing and snowy year-round. Vulnerable Syrians continue to flee violence at home and, each winter, frostbite claims more limbs, and lives from those searching for safety.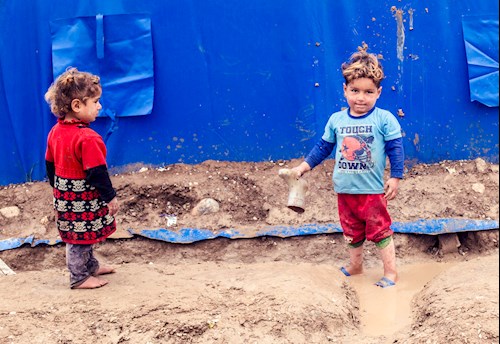 Frostbite is most common on the fingers, toes, nose, ears, cheeks and chin. But once temperatures drop below zero, the risk of frostbite becomes an immediate threat. At -18 degrees celsius you can get frostbite in just 20 minutes.
Refugees dying of cold
It's hard to imagine walking through freezing-cold snow for ten hours. It's harder still to imagine making that journey without shoes.
This is what happened to an 11-year-old boy and his mother who fled Syria in 2016. Continuous violence and air strikes forced them to leave their home and make the dangerous journey across Syria's mountainous border, completely barefoot and in the snow.
The boy and his mother kept moving, even as frostbite set in. They managed to make it to the coast. Their next challenge was to cross the sea in an overcrowded boat, with no lifejackets and no guarantee they would make it to their destination alive.
Frostbite resulted in gangrene and amputation
When they finally arrived on the Greek island of Lesbos, the boy and his mother were taken ashore. They were in tremendous pain and on the verge of collapse. A doctor recognised that the severe frostbite on their feet had turned to gangrene. The tissue was so badly damaged that amputation was the only option. Tragically, both the boy and his mother lost their feet.
Three years later, the Syrian conflict continues. Families continue to flee their homes, and each year, more refugees freeze to death.
Cold weather kills refugees
Last winter, at least 29 children and new-born babies died in freezing temperatures after fleeing the Syrian conflict*. This year, as temperatures plummet, the risks remain as high as ever.
Winter in Syria is extremely harsh, with dangerously low temperatures and camps buried in snow. The combined horrors of winter and war make life unbearable for children. They must endure sub-zero temperatures, rain, howling winds and prolonged periods of snowfall. For most, there is no respite from the cold - no heated home to shelter in, no warm clothing, bedding, or nutritious food.
Now in its 9th year, the Syrian conflict remains one of worst humanitarian crises in the world.
There are 6.6 million people internally displaced inside Syria, including 2.6 million children, while 2.98 million people are trying to survive in hard-to-reach and besieged areas**.
Human Appeal winter emergency response
Since the winter of 2015, Human Appeal has been providing warm winter clothing, food, shelter, and medical care, bringing comfort, warmth and healthcare to children, displaced families and refugees dying of cold in camps. Thanks to our generous donors, we have helped nearly 48,955 in Syria, as well as 22,230 Syrian refugee families in Jordan.
In the Bekaa region of Lebanon, where more than 421,972 Syrian refugees are trying to survive, winter can be merciless. 271,018 people are living in sub-standard tents, basements and garages, enduring snow, ice and freezing temperatures. No one can escape the bitter cold and children are especially vulnerable.
Winter Appeal 2019
Every year, for children freezing to death in refugee camps, Human Appeal's Winter Appeal is a lifeline, helping to prevent frostbite, hypothermia and other winter-related illnesses.
Give £165, and support a displaced Syrian child and their family. Your charity will provide a family with blankets, a high-density water-resistant polyethylene plastic sheet, wellington boots, raincoat and waterproof rain wear, and other protective winter clothing. Help a child to stay warm throughout the bitter season.
In Lebanon, £70 will provide a Syrian family-of-six with 40 litres of heating oil and nutritious food, providing warmth and food for a whole month.
Help us save lives this winter
*WHO Report 2019
**UN Statistics 2019