We're there for every human. Every single member of the Human Appeal family is dedicated to making a just, kind and sustainable world . So when sister Sofia* reached out to our Donor Care team to explain that she would struggle to meet the growing cost of sponsoring an orphaned child, team member brother Mohammad Lambat responded by putting into practice Human Appeal's values – being there for everyone.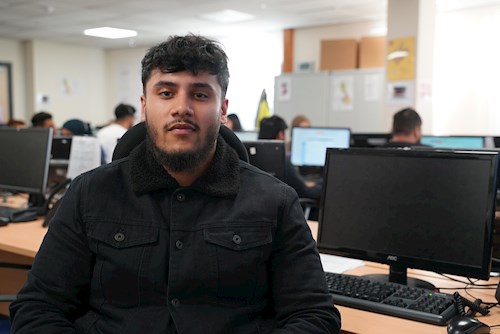 Sister Sofia explains:
At that moment we were facing such financial crisis that even £1 was dear to us…Without judgement, brother Lambat not only gave us consolation, but he actually took an interest in [what I was doing to afford] my family's basic necessities like food and school supplies, and then he approached me again to see if he could help me sell my art canvases to support me. I was overwhelmed by the gesture. I have been a regular donor to Human Appeal for a few years, but it has been very small amounts; we don't have a lot to give but whatever little we have we like to share.
"The most beloved of deeds to Allah are those that are most consistent, even if it is small"
Sister Sofia continued to support an orphaned child, despite the hard times she endured. And, rather than keep the money raised in the sale of her art, she requested that all funds received were donated to Human Appeal.
Brother Lambat sent me a donation receipt of all the causes he distributed the money towards and I cannot express the gratitude I have. Never had I even imagined that £200 would be raised for my humble canvases and distributed in my family's name, including a Qurbani!
He also promoted my very humble crafts page on Instagram to support me which I am very grateful for. This is all due to generous people and brother Lambat's hard work. He didn't have to do anything for us but he went out of his way to help us and this is the biggest achievement in my life to date. I am so overwhelmed.
Brother Lambat has represented [Human Appeal] to the fullest. I remember when I was getting wary about charity organisations as people were telling stories of the misuse of donations but after Brother Lambat came into our lives my faith in your organisation is firm. If he can support someone like us then I can only imagine what extreme lengths he would go to for [vulnerable] people around the world. I want to praise him where it is due. He cares about the world and goes that extra mile for the love of Allah. He has been professional, reliable, understanding and truly helpful.
Allah sent him into our lives as inspiration. Jazak Allah Khairan
When you donate to Human Appeal, you are entrusting your charity to a team that is dedicated to our vision of a world in which our work is obsolete, but until then, we are there for every human, including you.
*Sr Sofia's name has been changed to reflect her request for anonymity.