You burn more calories in winter, but not in the way you may think. It's not the cold weather that makes you use up more energy, but your body's reaction to the cold.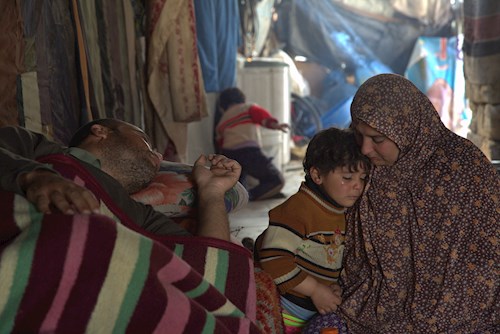 Do we need more energy in winter?
Yes. When we feel cold, our bodies generate warmth, which burns calories. One of the ways this happens is through shivering - a reflex that can boost the surface heat that our body produces by up to 500%. Shivering burns more calories than walking; spend one hour shivering and you'd burn 400 calories (compared to around 300 if you walk for an hour). But we can only shiver for a short period of time before we become fatigued, and look for other ways to create energy and warmth, such as eating.
Winter and nutrition
A drop in our body temperature stimulates appetite and we experience hunger. That's why, when we feel cold, we're likely to reach for a meal or snack. By eating nutritious, calorie-dense foods, our bodies can create their own heat when we're feeling cold. Sadly, this is not a possibility for refugees dying of cold this winter.
When we consume food, it is digested, absorbed and metabolised – these processes produce heat, a process called thermogenesis. The higher the protein content, the warmer the thermogenesis.
That's why calorie-rich food is vital for vulnerable families who are trying to survive in refugee camps this winter. They need calorie-dense food that not only provides fuel, but helps them to stay warm, and survive the coldest temperatures.
820 million people are hungry this winter
Sadly, millions of people do not have access to nutritious food to stay warm and well. There are currently 820 million people in the world who are hungry, including the 70.8 million people who were displaced at the end of 2018 and the 13.6 million people who were newly displaced this year.*
According to WFP (World Food Programme), more children die each year as a result of undernutrition than malaria, AIDS and tuberculosis combined, and 45% of all deaths among children under five are caused by malnutrition.
Children and winter nutrition
Children are especially vulnerable in the cold winter months because they burn more body fat day-to-day than adults do. They feel the cold more sharply and begin to shiver at warmer temperatures than adults. Young children need about 2.5% more fat each day than adults, and babies need 7.5% more.**
Calories and nutrition in winter are critical to saving and sustaining young lives and the lives of their family members trying to survive in refugee camps this winter. When temperatures plummet, securing a nutritious meal is critical – food is a lifeline for refugees freezing to death. Nutritious food helps human beings to fight winter illnesses that can become fatal in camps, where even the common cold can be deadly.
How Human Appeal is helping
Over the past year alone, Human Appeal has provided vital emergency food aid to 463,862 vulnerable and displaced people through nutrient-rich food packs, vouchers and school meals. During last year's Winter Appeal, Human Appeal delivered over 20,000 winter food packs in seven countries.
As well as our winter emergency response programmes, we have also helped 57,088 people to increase their resilience to hunger over the past year with our food and livelihoods projects in Somalia, Iraq and Syria, while our health facilities in Idlib, Syria, have helped improve nutrition levels in vulnerable populations, especially women and children.
Winter Appeal 2019
This winter, our emergency winter kits contain nutritious foods, including fat, protein, and carbohydrates, which take longer to digest and are effective at warming the body. With your help, we'll be providing enough energy-dense food – including oil and cheese – to last a family of between five to six people for a whole month.
Our winter kits cost from just £100 and contain other essential items, such as warm clothing, thermal bedding, fuel for heating, and shelter repair kits. Help a family to stay nourished and warm this winter.
Please donate to our Winter Appeal and save precious lives today.
*UN Statistics 2019
**Nutrition Journal, August 15, 2007