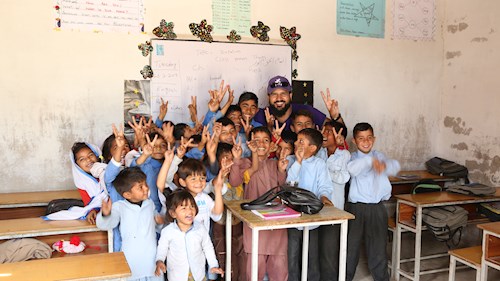 Human Appeal works year-round to foster peace in vulnerable communities through projects that build strength, cohesion, and resilience to the effects of climate change and conflict.
Our work strives for a peaceful future by actively pursuing the UN's Sustainable Development Goals (SDG), with a focus on providing Quality Education (SDG 4), Reducing Inequality (SDG 10), Sustainable Cities and Communities (11) and Peace, Justice, and Strong Institutions (16).
This September 21, the International Day of Peace, take a look at some of the ways that we strengthen the bonds of community through inclusive, transformative projects.
Building Community Resilience
Last year in Tharparkar, Pakistan, communities were devastated by drought, which caused food shortages and malnutrition, and decimated livelihoods and crops.
Our integrated project supported community resilience to changing weather patterns in six villages in Islamkot, by helping families recover their health and livelihoods both immediately and in the long term. We organised two medical camps in each village, provided nutritional supplements to 600 of the most vulnerable children, pregnant women and nursing mothers for three months, and trained a further 1,500 women and children in health and nutrition.
We also vaccinated 5,000 animals, provided three months' fodder to 150 farming households, and provided them with training on livestock nutrition and management.
This project helped 4,380 drought-affected people in a cohesive manner, addressing the damaging effect of climate change on health, livelihood, livestock and resilience.
Inclusiveness Through Education
A third of children in Pakistan's children aren't attending primary school, but for girls, that figure jumps to almost 40 per cent. Many schools lack space and basic facilities, such as blackboards and desks.
In Samundri, Faisalabad District, we built two classrooms, installed computer and science labs, provided hygiene training, and improved access to drinking water for the 500 girls, 100 boys and 45 teachers at the Government Girl's Primary School. We trained children and teachers on the proper use of their new facilities to ensure that they benefit the community for years to come.
This project promotes an inclusive, healthy and productive learning environment for children, especially girls, and invests in the new generation. We believe that, with the right support, all children can grow to become productive members of a peaceful society.
Rebuilding Syrian Futures
An estimated one in three Syrian schools was damaged or destroyed during the conflict. Today, a third of Syrian children – that's over 2 million people – are out of school.
One of the most lasting effects of war is the loss of education. Without schooling, the next generation will be unable to rebuild their country to be a place of stability and peace.
In partnership with UNICEF, Human Appeal is rehabilitating classrooms and washroom facilities, providing psycho-social support, and establishing temporary, furnished learning spaces in northern Syria.
We're encouraging school attendance and fighting the risk of dropping out by providing safe, clean areas where children can learn, and where teachers can educate the next generation. A parallel campaign is also promoting the importance of school attendance by distributing information pamphlets and holding community meetings.
Peace is about more than the absence of conflict, it's about the universal right to live in dignity and safety. Join us in celebrating the International Day of Peace.
"Verily, the best of the people to Allah are those who begin the greeting of peace." (Abu Dawud)