By Saara Zai
During Ramadan, we focus on all the spiritual benefits that fasting brings. Sometimes we forget that the holy month is not only crucial for cleansing our soul, but also for cleansing our body.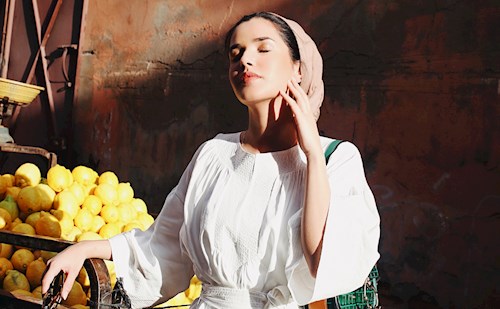 Use Ramadan to Detox
One of my favourite parts of Ramadan is definitely the craving for food, which leads to all of my siblings cooking different meals for iftar. However, strong food cravings mean it often becomes so hard to avoid all the junk food and fried dishes - trust me, I know!. Once you are past that phase and you get into healthy dishes for iftar and suhoor, it makes a huge difference to your body and skin. It's super important that we only eat what's beneficial for our body and what helps keep our energy levels up. So, skip the junk and dig into a salad instead. Eating home-cooked meals rather than going out for iftar is a great way to start the health kick. The chance to spend time with your family over dinner is great motivation for you to stay in and cook a nutritious meal at home. 
Like I said, Ramadan is all about detoxing our soul and body.
The Ramadan Skin Struggle
Now that we understand the importance of putting nutritious meals into our empty stomachs, let's focus on what we can do to maintain and improve our skin during this month. Like many, my main struggle during Ramadan is staying hydrated. I know that I am not disciplined enough to drink 2 litres of water between iftar and suhoor every day - that's why I suffer from dry skin in Ramadan. I make up for the loss of moisture by applying thicker moisturisers and face oils before bed time! I also suffer from dry lips and try to keep them hydrated by re-applying lip balms daily and avoiding lipstick as much as I can. My favourite lip balm to use is Aquaphor, as it's very hydrating and stays put.
Nighttime Skincare
Nighttime is the perfect opportunity to nourish your skin whilst you sleep. After moisturising, I like to apply face oil before bedtime. I do this whenever I feel like my skin needs to have an extra moisture boost. I like to use Sisley's Black Rose Precious Face Oil. It's definitely on the pricey side but perfect if you want to treat yourself for Eid. A cheaper alternative (almost as good) is the The Ordinary's 100% Organic Cold-Pressed Rosehip Seed Oil. Did I mention it costs about the same as a burger meal? #Win
A Face Mask for All
After iftar, most of us get super lazy but, once a week, I make sure to squeeze in a quick and easy face mask. Here are some of my go-to face masks for dry skin. Leave them on for 15 minutes, rinse, and then apply a moisturiser.
Homemade masks:
Banana face mask – nourishes, brightens and moisturises
Raw honey – 1 or 2 tablespoon
1 banana, mashed.
Yoghurt (brightens and soothes skin) – ¼ cup
Oatmeal face mask – exfoliates, soothes and nourishes
Oatmeal powder – 2 tablespoons
Raw honey – 2 tablespoons
Milk – 2 teaspoons
Sheet Masks:
Anyone who follows me on Instagram knows I'm a big fan of a sheet mask. They're quick, easy and great if you're not prepared to get messy! A couple of my favourites are Starskin's:
100% Camellia Brightening Mask
Cream de la Creme Instantly Recovering Luxury Cream Coating Face Mask
I really hope you enjoyed my tips for Ramadan 2019. Be sure to try out these masks and let me know what you thought of them!
Thank you to Human Appeal, for giving me the opportunity to share my knowledge with you.
Ramadan Kareem.
Loves, Saara Zai
@SaaraZai