World Health Day is a time to campaign for universal health coverage for everyone, everywhere. It's also an amazing opportunity to recognise the steps that NGOs around the world have taken to ensure that families in countries blighted by conflict, disasters, climate change and high poverty levels can access vital health services.
Unfortunately, 50% of the world's population still do not have full coverage of essential health services. Globally, around 100 million people are being pushed into 'extreme poverty' because they have to pay for basic healthcare. Over 800 million people (almost 12% of the world's population) spend at least 10% of their household budgets to pay for medical care.
At Human Appeal, we believe that every human being should have access to medical care, no matter where they come from or what their income is.
Supporting hospitals in Syria
The Syrian conflict has caused the biggest displacement crisis worldwide and 13.1 million Syrians are currently in desperate need of humanitarian assistance. 2.8 million of them are children. This brutal conflict has been going on for 7 years, destroying Syria's infrastructure and leaving millions of civilians without access to food, clean water, shelter or basic medical care.
With the help of our donors, we have supported the Al-Iman hospital since early 2015 in partnership with UNOCHA and Americares, and last year alone, we extended vitally needed healthcare to 150,000 vulnerable women and children in the Aleppo region. In partnership with UNICEF, we have also delivered healthcare and nutrition projects in Aleppo and Idlib, benefitting 23,000 people in 2017.
Donate now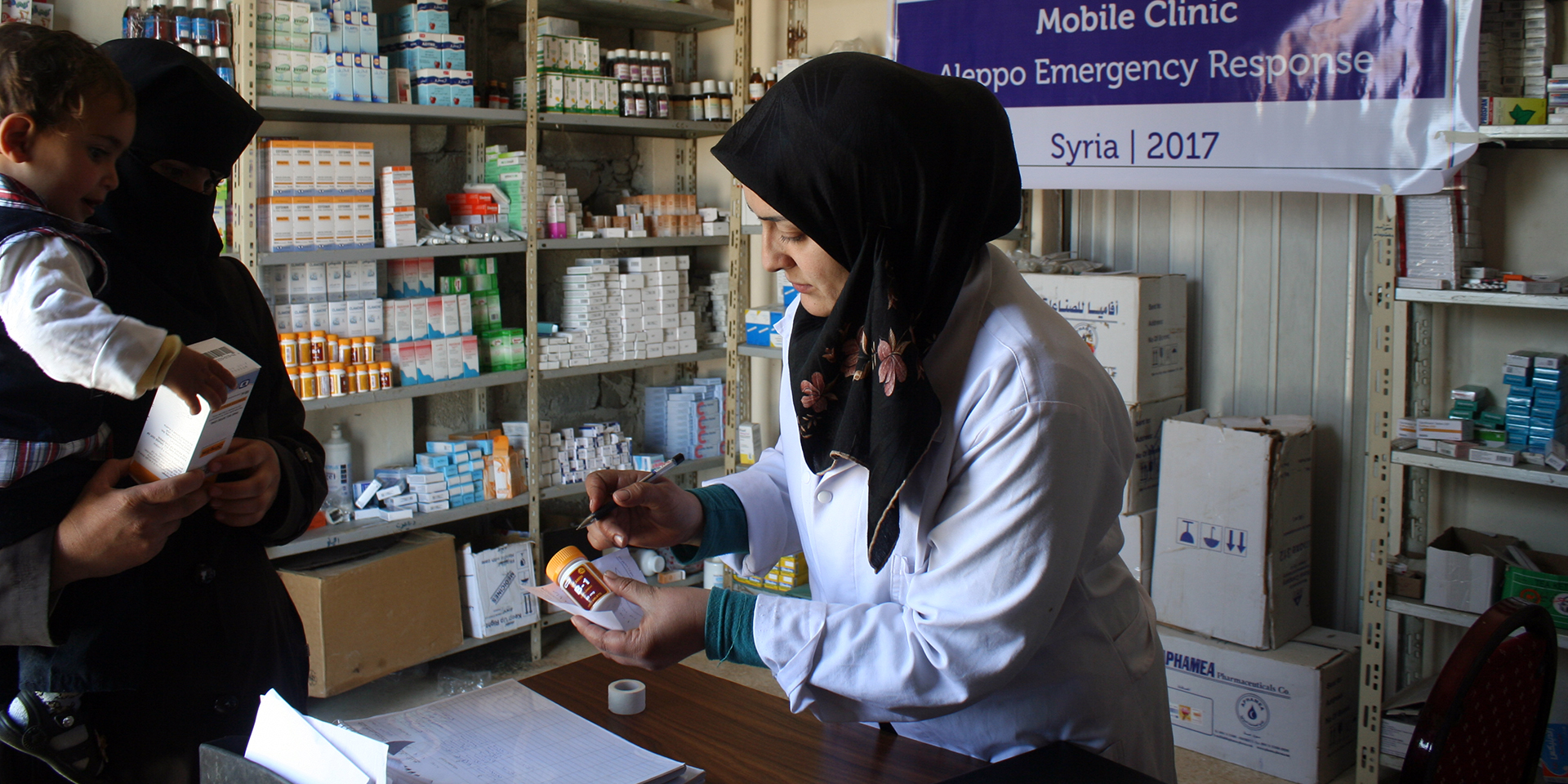 Providing medical care in Iraq
Human Appeal is the biggest INGO in Mosul and our field office there has been instrumental in providing emergency relief to thousands of families in wake of the brutal battle of Mosul.
In 2017, our dedicated team on the ground set up a mobile medical clinic providing specialist consultant services to internally displaced families, who had fled the city of Mosul, in 4 different camps.
Battling cholera in Yemen
Our staff worked tirelessly to address Yemen's deadly cholera epidemic in 2017, delivering 100 beds and mattresses to medical centres in Sana'a to relieve the pressure on local services and help enable them to deliver the services needed. We also supported hospitals with medical supplies – oral rehydration solutions, antibiotics, syringes, gloves, masks, protection gowns and head covers – which helped the medical staff treat 24,800 people.
We also provided 10 incubators for premature babies at the Al-Sabeen Hospital in Sana'a, helping them to care for 700 babies in 2017 alone.
Keeping hospitals functioning in Palestine
In 2015, we collaborated with the Ministry of Health to create a children's ward at the Kamal Edwan Hospital, and we also provided fuel, medicines, chemotherapy equipment and chemical analysis devices to hospitals, allowing them to treat 68,850 patients.
Our water projects in 2016 ensured that health centres and hospitals had much-needed access to clean water, benefitting 100,000 people.
Reducing malnutrition in Niger
Human Appeal worked in partnership with Niger's Ministry of Health, UNICEF and the World Food Programmed (WFP) to provide financial, technical and logistical support to 50 healthcare clinics and Say and Goure districts. We also trained medical staff on how to prevent malnutrition in young children, pregnant women and breastfeeding women. We held community-based awareness sessions that enabled people to identify and minimise the risks of malnutrition, improving the health and nutritional status of 9,493 women and children. We also held community sessions to help local people identify and minimise the risks of malnutrition in 2016.
Supporting Rohingya refugees and new mothers Bangladesh
For the Rohingya refugees seeking safety in Bangladesh after fleeing persecution in 2017, we established two satellite medical camps. These facilities are providing primary healthcare to around 15,000 Rohingya people in Kutupalong camp in Cox's Bazaar.
Between 2013-2016, we provided community-based care for 510 pregnant and nursing Bangladeshi mothers, and medical support for 4,775 children under the age of 5. The project trained Traditional Birthing Attendants who delivered 1,548 health education sessions to communities to encourage positive behavioural change. This resulted in 93% of babies being born above the normal birth weight.
Our projects in Bangladesh also delivered healthcare and nutrition assistance to 6,954 vulnerable people from 2014 and 2017.
How you can help
Human Appeal is committed to ensuring that every person can access quality healthcare as and when they need it. However, we can do nothing without your support.
For just £90, you can help keep Al Iman hospital in Syria open so it goes on to treat hundreds of sick and injured people, including children, in a country blighted by 7 years of conflict.
You can save a precious life today.
Donate now