The devastating crisis in Yemen has now been going on for 3 years. Horrifying violence has left 22.2 million people in desperate need of humanitarian assistance, including food, water, shelter, food and sanitation. 11.3 million of them are innocent children.
Severe food shortages mean that the country is standing on the brink of famine. Families have been left sick, starving and literally plunged into darkness, without any electricity. 3.3 million children and pregnant or nursing women are acutely malnourished, making them more susceptible to cholera and other diseases. 
Donate Now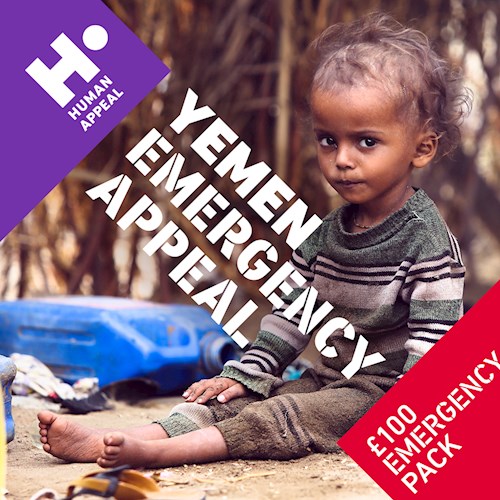 Yemen's cholera crisis set to worsen in the rainy season
Yemen is entering another phase of rainy seasons, and the World Health Organisation (WHO) has warned that this could cause the cholera epidemic to escalate over the next couple of months. Since the initial outbreak of cholera is 2016, the crisis has been contained but a surge of cases is likely as rainfall increases.
Cholera is a disease that spreads through contaminated water and food, and is largely preventable if sufferers receive appropriate treatment in time. However, in war-torn Yemen, medical provision is scarce and out of the 1 million reported cholera cases, more than 2,200 have died.
Civilians are paying the highest price in Yemen's devastating war
The conflict in Yemen has resulted in the destruction of water pipelines, sewage infrastructure and sanitation faculties, forcing the embattled population to use dirty water for cooking, washing and drinking.
Hygiene provision is inadequate, particularly in the camps for the 3 million internally displaced people who have lost their homes. Yemen's health system is failing and without immediate intervention, many more cholera patients will die as a result of the incipient rainy season.
Human Appeal's work in Yemen
Human Appeal has been on the ground in Yemen since 2014, before the war began, and we've continued to provide vital assistance to the Yemeni people throughout the brutal and devastating conflict. 
In 2015, we responded to the dengue fever outbreak in Aden providing clean water for nearly 300,000 people. 
In 2016, we distributed clothes to vulnerable children in Aden and provided clean water to schools and displaced people in Aden and Lahj, benefiting 3,640 people.
In late 2017, we started working in partnership with the World Health Organisation (WHO) to provide an emergency cholera response to the value of $960,000. We supported hospitals in Al Hudaydah and Al Dhale'e, allowing them to treat 24,800 people during the outbreak of the cholera epidemic. We also provided 10 incubators for premature babies at the Al-Sabeen Hospital in Sana'a, helping them to care for 700 babies last year alone. Many more innocent newborns will benefit from this project in years to come.   
Thanks to the generosity of our donors, we were also able to support 600 vulnerable orphans in Sanaa by providing them with high-quality education, a sense of stability and hope for a brighter future.  
How you can help the people of Yemen 
The crisis in Yemen is far from over. With the rainy season approaching, it's more important than ever that we support vulnerable families so they can access clean water and sanitation facilities. Hospitals are in desperate need of beds, mattresses, sterilization equipment, antibiotics and anesthetic. Without basic medical supplies and space for patients, healthcare facilities will not be able to treat the influx of new cholera cases created by the seasonal rains. 
For just £100, you can provide a desperate family in Yemen with food, clean water and medicines to help them survive the upcoming rainy season and protect them from cholera. This emergency pack can make the difference between life and death for innocent civilians facing a daily struggle for survival.
You can save a precious life today. 
Donate Now