Imagine walking for ten long, exhausting hours without being able to stop to rest. Imagine making that journey through inches of snow, in the freezing cold. Now imagine walking for ten hours, in the snow, without any shoes on your feet.
This is no hypothetical situation. This was the reality for an 11-year-old boy and his mother who fled Syria in 2016. The increasingly brutal violence and continuous air strikes forced them to leave their home and make the dangerous journey across Syria's mountainous border, completely barefoot and in the snow.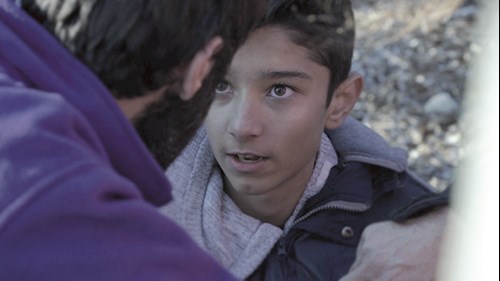 The next step in a perilous refugee journey 
Somehow, the boy and his mother managed to survive this torturous journey and make it to the coast. Their next challenge was to cross the sea in an overcrowded boat full of other desperate refugee families. There were no lifejackets and no guarantee that they would make it to their destination alive.
When they were taken ashore on the Greek island of Lesbos, the little boy and his mother were in horrific pain and on the verge of collapse. A doctor recognised that the severe frostbite on their swollen, ruined feet had turned to gangrene. The tissue in their feet was so badly damaged that amputation was the only option.
Both the boy and his mother lost their feet.
The Syrian crisis is still taking innocent lives
This tragic story might seem unusual, but it's not. It's now 2018 and the Syrian conflict is far from over. Vulnerable families like the boy and his mother are enduring similar horrors every single day.
Life is already difficult for the people of Syria, for those who are displaced within their own country and refugees in neighbouring lands. In winter, it becomes unbearable. Without winter coats or shoes on their feet, children risk contracting colds and flu that can easily turn into fatal illnesses like pneumonia.
Millions of people are forced to shelter in thin nylon tents or the bombed shells of buildings with holes in the walls and no glass in the windows. They sleep huddled together for warmth, without mattresses or warm blankets. Parents have to make the excruciating choice between feeding their children and stopping them from freezing because there isn't money for both food and fuel.
How you can help Syrian families this winter
Human Appeal is on the ground in Syria, Jordan and Lebanon in the winter months, supporting the world's most vulnerable families, so that no other child has to suffer the horrors of frostbite and amputation.
However, we can only continue to do this vital work with your help. Your donations mean the difference between life and death for Syrian families this winter.
Just £65 will provide a family of four with enough wholesome food to keep them well-fed for a whole month. For £165, you can give the gift of a Winter Survival Kit, containing clothes, blankets, mattresses, heating fuel and food to safeguard a family and keep them warm and fed. £250 will protect a Syrian family from the bitter cold by providing them with the shelter they so desperately need.
You can stop winter killing today.