According to UNICEF, nearly 3 in 10 young people between 15 and 24 years old who live in countries affected by conflict or natural disasters are illiterate, triple the global rate. This means that 59 million young people are severely disadvantaged and may have little chance to lift themselves out of poverty in adulthood.
Countries with long histories of poverty and political instability are home to the highest rates of illiteracy. In Niger, 76% of young people cannot read or write. In South Sudan, the figure is 68%.
The analysis has been created using UNESCO's literacy rates in 27 emergency countries. In terms of reading and writing skills, girls and women are at the biggest disadvantage. In the identified emergency countries, 33% of girls fail to learn even the basics compared to 24% of boys, due to a variety of issues around gender inequality and the lack of importance placed on female education. 
The UNICEF Executive Director Henrietta H. Fore said: "These numbers are a stark reminder of the tragic impact that crises have on children's education, their futures, and the stability and growth of their economies and societies".
Helping children and young people access education in Palestine 
People living in the occupied Palestinian territories continue to suffer from the effects of violence, displacement and lack of access to livelihoods, nutritious food and clean water. The cost of living is high due to the continuing crisis. Unprecedented levels of unemployment are keeping millions of families in poverty.
Lack of financial support means that many students cannot start their higher education studies or have to drop out. Palestine needs professional, university-educated citizens in order to invest in the future. The UN's Sustainable Development Goals state that obtaining a quality education is the foundation for improving people's lives.
In 2017, we supported 75 students by paying their tuition for university courses across a variety of disciplines including medicine, IT, the arts, education, commerce and engineering. At the University College of Applied Sciences, we were also able to support another 200 students with fees and transportation costs. 
In Jerusalem, 38% of all children are denied an education. For some, there is simply no school to attend and others are crammed into severely overcrowded classrooms where they cannot learn effectively. There is a widespread shortage of educational tools, and many school buildings are run-down and unsanitary. Children cannot play or positively interact with each other because there isn't the physical space available in classrooms or courtyards.  
In 2016, we established a Welfare Centre in eastern Jerusalem that empowers vulnerable and orphaned boys through education. With your help, we transformed a dilapidated building in a safe and vibrant centre catering for boys between the ages of 4 and 12. Our Welfare Centre currently benefits 2,580 children in need every year. 
The four-storey Welfare Centre is colourful, supportive and interactive, and provides an ideal learning environment for vulnerable children who have experienced trauma that impacts on their behaviour, interpersonal skills and psychological health. 
Providing quality education to children in Pakistan
Many of Pakistan's public schools have lost the trust and cooperation of their local communities due to a lack of training for teachers and a shortage of contemporary teaching methods. Teachers are not rewarded for their efforts and there is widespread job dissatisfaction and low motivation among staff.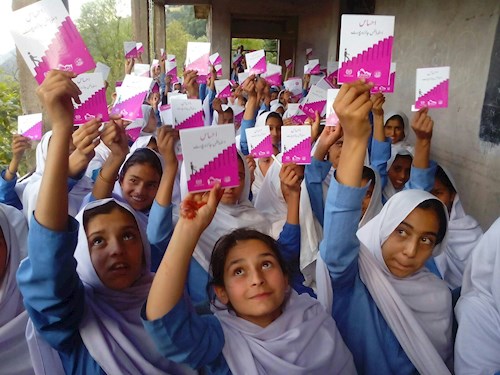 With the help of our donors, we launched a comprehensive project to improve access to quality education in public sector schools throughout Azad Jammu and Kashmir. We chose 772 state secondary schools as beneficiaries and within 18 months, our project had positively impacted on more than 89,700 people. We provided professional training for 12,000 teachers and improved the reading, writing and speaking skills of 70,000 students.
This initiative strengthened links between the education department, teachers and community members, allowing them to all play valuable roles in reducing the educational dropout rate in public schools.
Preventing Syrian children from becoming a 'lost generation'
The Syrian crisis is now entering its seventh year and a peaceful solution still seems to be out of reach. Within Syria, 6 million innocent children are in urgent need of humanitarian aid, a figure 12 times higher than in 2012. 1 in 3 Syrian children have grown up knowing only crisis. Air strikes have destroyed schools and disrupted the education of millions of children and young people. 1.75 million children aged 5 to 17 are out of school and 1.35 million at risk of dropping out.
In Batbu village, northern Aleppo and Dir Hassan village in the Al-Dana district, we have helped 327 and 418 conflict-affected children respectively to access high-quality, formal education. They have been provided with educational kits and learning aids, and can take part in extra-curricular activities like sport and handicrafts. It's so important that children who have had their lives blighted by violence and insecurity are able to learn, play and discover their academic potential.
How you can help
Human Appeal is on the ground in Syria, Palestine, Pakistan and many other countries, helping children affected by conflict and natural disasters to get the education they need. 
By donating to our Education Fund, you can help a vulnerable child fulfil their potential and give them a brighter future. Your Sadaqah Jariyah education gifts will benefit children both immediately and for generations to come, long after you have passed from this earth. Investing in the education is vitally important for the future of countries blighted by violence and crisis.
Donate now