Last year was one of the worst years on record for children affected by war and conflict. Violence in Yemen, Syria, Myanmar and Iraq blighted millions of young lives and plunged innocent children into crisis. Sickness, hunger, cold and abuse are the reality for little ones living in conflict zones around the world.
The electricity crisis in Gaza is putting sick children at risk 
The World Health Organisation has warned that hospitals in Gaza will face an almost total power blackout by the end of February, unless funding is urgently found to keep emergency generators running. 
Gaza is experiencing an ongoing electricity crisis. Hospitals are relying on emergency generators for up to 20 hours a day, forcing medical professionals to cut back on diagnostics and the sterilization of vital equipment. Every month, 500,000 litres of fuel are needed to keep Gaza's hospital. Current funding will only cover them until the end of February.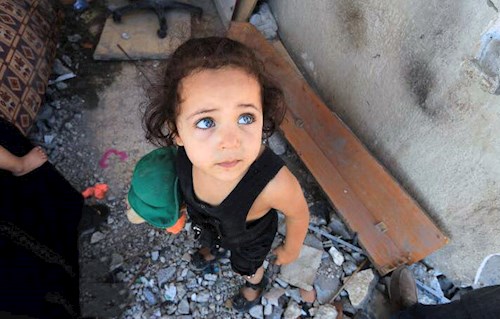 According to the head of the World Health Organisation's Gaza office, Dr Mahmoud Daher, there are "at least 200 babies and people in intensive care units" who will face fatal consequences if fuel supplies for the generators are not replenished.
The constant power cuts and power fluctuations have damaged sensitive medical equipment and difficulties with sterilisation have caused an increase in hospital infections. Worsening malnutrition in pregnant women has caused more premature and low-weight babies to be born. Incubators meant for one baby are now crowded with several little ones.
This sort of overcrowding is incredibly dangerous and means that medical staff are caring for up to seven critical ill babies at one time, and can't adequately monitor their health. With fuel supplies set to run out at the end of February, these tiny babies have a slim chance of survival.
Rohingya children are facing a protection crisis
More than 600,000 Rohingya Muslims have arrived in the border towns of Bangladesh after fleeing devastating violence in Myanmar, where they have been persecuted and discriminated against for decades. The Rohingya refugees have lost everything. They've seen their homes and farmland burned to ashes and family members shot as they tried to run away. Almost 60% of them are children.
Many have been separated from their families or seen parents and siblings raped and murdered before their very eyes. No child should see such horrors. Unaccompanied children are also facing serious protection risks, including the attentions of child traffickers who target the refugee camps in the hopes of finding vulnerable orphans. 
In the Bangladeshi border camps, children are sleeping in the open air without any protection from the elements. Heavy rainfall has turned the ground into a slurry of mud and human waste. Without clean water or sanitation facilities, diseases like cholera and diphtheria have an ideal breeding ground.  
Thousands of Syrian children have only ever known conflict 
In eastern Ghouta near the Syrian capital of Damascus, more than 400,000 civilians are being held under siege. The UN has demanded that humanitarian aid be allowed into the area as thousands of families are running out of food, fuel and clean water. Hundreds of people are in need of urgent medical care and there is no treatment available.
Children are cold and hungry, petrified by the constant air raids and artillery fire. Some of them have been born during Syria's seven year conflict and know nothing but the instability and misery of war. In the coldest months of the year, the freezing temperatures mean that vulnerable children are at even greater risk of sickness and death.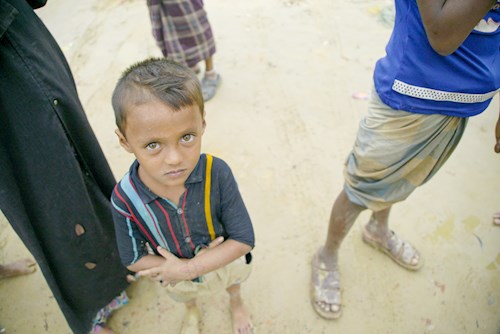 On 27th December, some critically ill children were permitted to leave in exchange to the release of government officials held by rebel forces. However, thousands more innocent little ones are still trapped in besieged eastern Ghouta, at the mercy of bombs and bullets. 
Together, we can change this picture
In 2018, we owe the world's children our very best collective efforts. No child should be born into conflict. In Syria, Bangladesh, Palestine, Iraq and Yemen, precious little ones are being denied an education, preyed upon by child traffickers and stripped of their childhoods. 
The psychological impact of conflict on young minds cannot be underestimated. A whole generation of children worldwide will grow up scarred by the trauma of what they have witnessed.
This year, we need your help to safeguard innocent lives. Conflict has displaced millions of people and destroyed homes, leaving families vulnerable to the winter cold. Just £165 will give a family with young children the warm clothes, blankets, nutritious food and heating fuel they need to survive the winter months. £250 will buy shelter essentials to keep a family with a tiny baby warm and dry in snow or heavy rain.
Help us stop winter killing today.
DONATE NOW