In March 2017, consecutive seasons of poor rainfall and ongoing bouts of violence plunged 22 million people into crisis across East Africa. The devastating drought has left 800,000 children under the age of 5 severely malnourished. More than 5 million people are currently left with no choice but to drink contaminated water.
In Somaliland and Somalia, more than 874,000 people have been displaced from their homes. Families have also been forced to leave their communities in South Sudan, Kenya and Ethiopia. Many are living in makeshift camps with no access to clean water, food or hygiene facilities. The East Africa food crisis is far from over.
Chronic hunger and misery in Somalia
Drought conditions in Somalia have led to crop failure, livestock deaths and a sharp spike in the price of basic foodstuffs. Combined with a chronic lack of employment opportunities in rural areas, these factors are preventing poor families from accessing the food they so desperately need.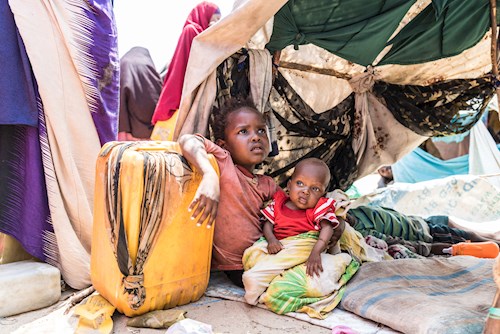 By September 2017, more than 3 million people were unable to meet their daily food requirements. 800,000 Somalis are currently on the brink of famine and another 3.3 million vulnerable people need urgent livelihoods support to prevent them from reaching crisis point. The number of Somalis facing starvation has increased tenfold within a year.
The World Food Programme estimates that around 388,000 children in Somalia under the age of 5 are acutely malnourished, including 87,000 who are severely malnourished and seriously at risk of disease and death. The bodies of these innocent little ones are shrivelled and wasted, and they face stunted growth and long-term developmental issues. The skin stretched over their skulls has become so thin that veins can be clearly seen through it. Their tiny bellies are swollen with malnutrition. Without immediate humanitarian intervention, hundreds of thousands of children will not survive.
Human Appeal's work in East Africa
We are on the ground in East Africa, providing urgent aid to those hit by the devastating drought. Thanks to the generosity of our donors, in 2017 we were able to improve access to food for 7,050 people in drought-stricken Somali regions of Baldoa and Gedo. We also provided safe sanitation facilities and clean water for 14,400 people. In the capital of Mogadishu, we distributed vital emergency aid to 400 needy people. In totally, more than 51,400 people benefited from our interventions in Somalia last year.
In Niger, 435 vulnerable families received food parcels and 710 households were provided with fresh Qurbani meat. 17,923 at-risk children benefited from our child health and nutrition programme. Feed the Fasting donations and Zakat payments provided emergency food and livelihoods support for 2,7000 families in Sudan. We also provided 42,000 Sudanese people with nutritious Qurbani meat.
The people of East Africa desperately need your help
The outlook for 2018 is bleak. As a lack of rainfall continues to threaten crops and livestock, families are left in desperate need of clean water, food and shelter. In Somalia, an estimated 1.2 million children are projected to be malnourished this year, including 232,000 little ones whose lives are threatened by severe acute malnutrition.
For just £100, you can provide a family of four with basic essentials including food, water and medical aid. This can mean the difference between life and death for vulnerable people on the brink of starvation. £65 will give a vulnerable family of four enough food to keep them well-nourished for a whole month.
You can save a precious life today.
DONATE NOW