Thanks to the generosity of our wonderful donors, we were able to support approximately 56,753 needy people in 6 countries last year. The winter months are the hardest to survive for millions of people living in poverty and conflict worldwide. With your help, we provided lifesaving aid to families in truly desperate conditions.
Supporting vulnerable families in war-torn Syria
Since 2011, the conflict in Syria has caused the largest displacement crisis globally and plunged millions of people into desperate poverty. Last year, we helped 14,748 people in Syria by distributing non-food items including winterisation kits and fuel coupons. In total, 2,950 households benefited from our interventions.
We focussed on three camps for internally displaced Syrians, one camp for widows and the children in Human Appeal International schools. We also targeted the new evacuees from eastern Aleppo city in five villages.
Our key achievements included delivering the following items to Syrians in need:
1700 mattresses
1700 blankets
1700 plastic sheets
1500 winter clothing packs for men
1600 winter clothing packs for women
2000 winter clothing packs for children
3500 fuel vouchers (20 litres per voucher) 
Keeping Syrian refugees warm in Lebanon and Jordan
More than 1 million Syrian people have fled to Lebanon since the beginning of the Syrian crisis, increasingly Lebanon's population by 25%. At least 75% of Syrian refugees in Lebanon are classified as poor. Families are struggling to survive in tents and under scrap metal, with no fuel for heating or cooking. They are forced to burn rubbish and plastic bags just to get a tiny amount of warmth.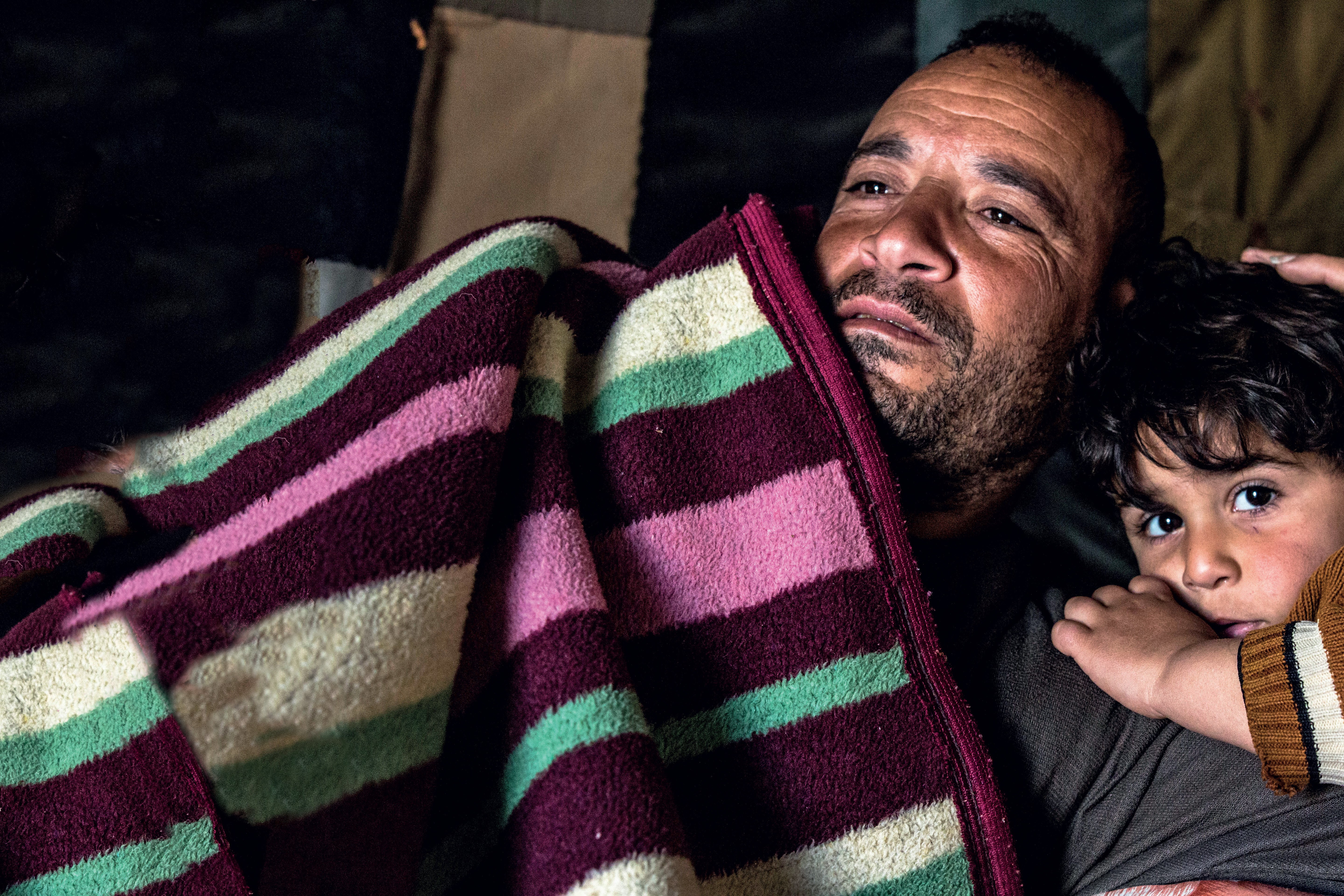 Thanks to our donors, we were able to support 930 refugee families by providing them with much-needed food packs, warm clothing and heating oil. Your generosity allowed us to reduce cases of cold-related illness and death, and combat malnutrition, particularly among small children.
There are currently more than 650,000 Syrians seeking refuge in Jordan. Many are living in makeshift shelters and are extremely vulnerable in the winter months. Last year, we provided 1,200 families living in tents and unheated houses with food parcels and blankets to help them combat the cold, improving the health of 7,200 people.
Helping families in Palestine survive the winter months
The people of Gaza are still suffering the effects of the 2014 conflict and many homes remain damaged or in a state of disrepair. Families receive electricity for as little as two hours each day, making it extremely difficult to stay warm or prepare hot food.
Last winter, we focussed on poor and needy families, large families, families with unemployed members due to the continuing blockade, the infirm, the elderly and the sick.
We provided:
1,030 families with winter clothing for every family member
1,132 families with winter blankets
286 families with nylon covers for the roofs to keep out the rain and snow
700 electric fireplaces
50 home renovations for needy families
In the West Bank, thousands of Palestinians have been displaced by demolition works and the growth of Israeli settlements. In 2016, 1,600 people lost their homes, 50% of them children. A further 7,000 people's livelihoods were affected.
With the help of our donors, we were able to support 4,207 people in the West Bank last year, focussing on Jerusalem, Hebron, Qalqiliya, Ramallah, Bethlehem, Jenin and Salfit. We were able to deliver the following winter items to vulnerable families:
200 heaters
202 mattresses
150 food parcels
150 winter clothing packs (sweaters and pyjamas for children)
Keeping out the cold in Pakistan
The increased frequency and severity of natural disasters in Pakistan has devastated villages across the country and left huge numbers of widows and orphaned children behind. Many family are now living hand to mouth, with no breadwinner or household savings. The effects of natural disasters can take communities years to overcome.
Last year, our distributions took place in Rahim Yar Khan, Faisalabad and Mansehra, benefiting around 2,996 people. Our focus last year was on orphan families and Human Appeal sponsored orphans. We distributed 303 winter kits containing sets of warm winter clothes and two quilts per family, and 290 food parcels to feed a total of 712 people.
Helping those closer to home
In Manchester and across the UK, homelessness and poverty is on the rise. As part of our winter response, we were able to support 4,286 needy people in the UK last year. In partnership with Greater Together Manchester and One Roof Leicester, we provided 50 beds for rough sleepers in churches across Manchester and Salford, and 10 beds for homeless clients in Leicester. They also received food, clothing and washing facilities.
As part of our award-winning Wrap Up Manchester campaign, we received donations of over 1,500 coats, hats and scarves from members of the public. The items were then donated to vulnerable groups including the homeless, the elderly, refugees, women fleeing domestic violence and children in need.
We need your help again this winter
Winter can be a killer for the 65.6 million people currently displaced by conflict and poverty. Families sheltering in refugee camps or in the shells of bombed buildings are at risk during the coldest months of the year. Without adequate shelter, warm clothes or enough food to eat, they are vulnerable to sickness and death.
Just £65 can feed a hungry and desperate family for a whole month. £165 will provide a family with a winter survival kit, filled with essentials. £250 will buy plastic sheets to protect a family from the freezing sleet and rain.
Together, we can stop winter killing today.
DONATE NOW