A top UN human rights official, Zeid Ra'ad al-Hussein, has denounced Myanmar's treatment of the Rohingya people as a "textbook example of ethnic cleansing" in an address to the UN human rights council in Geneva.
Recent reports show that more than 270,000 people have fled from Myanmar to neighbouring Bangladesh over the last few weeks, while more people remain trapped on the border. At least 400,000 people are still stuck in conflict zones in Western Myanmar, where their lives are in grave danger.
A growing humanitarian emergency
In the refugee camps, conditions are deteriorating. Without adequate supplies of food, clean water, shelter, blankets and basic medical equipment, thousands of families will be vulnerable to malnutrition and disease.
Overcrowded conditions where refuse and human waste are uncollected and coming into contact with cooking and drinking water, are ideal for the deadly spread of cholera. If these vulnerable families don't receive immediate humanitarian aid, the death toll for the Rohingya Muslims will surely rise.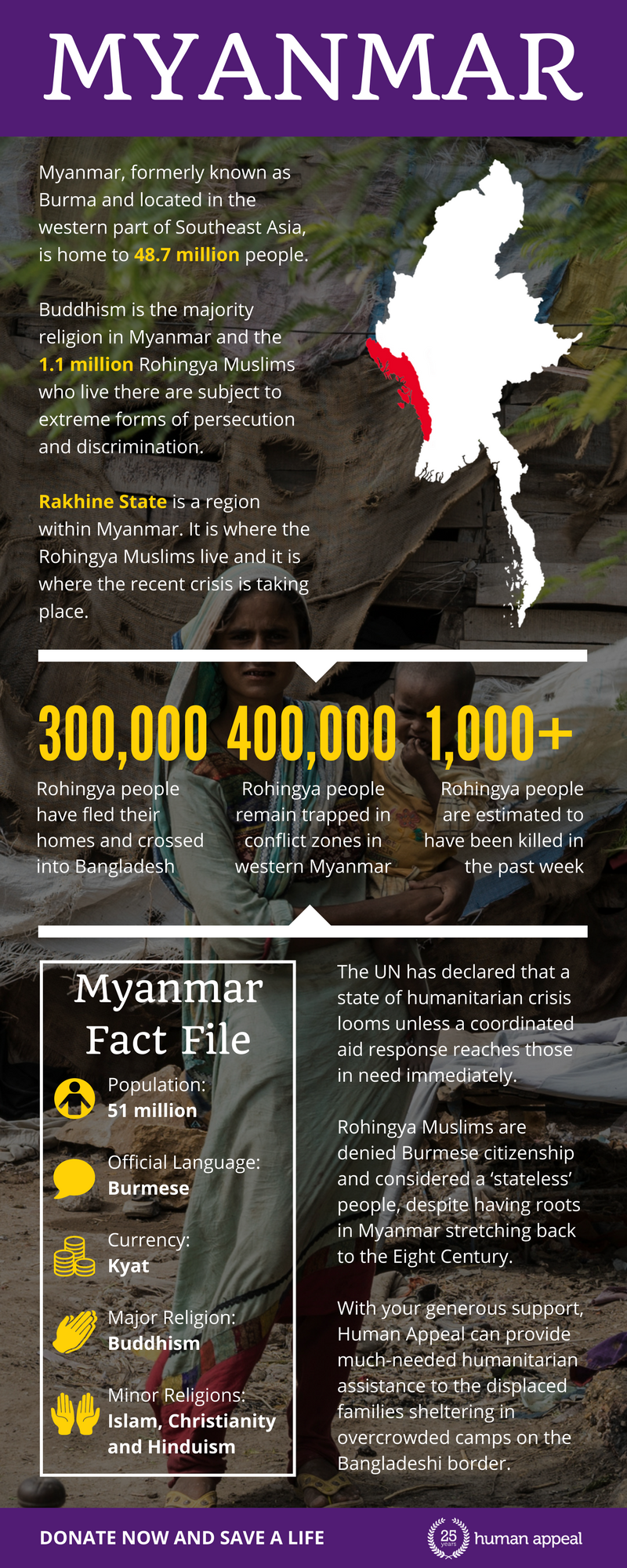 Donate Now
Lack of access for UN investigators
The situation in Myanmar cannot be fully assessed at present, as human rights investigators are being refused access to the country. However, multiple eyewitness and international news media reports and satellite imagery allow us to form a picture of how events are unfolding in Myanmar.
We know that at least 400 people have been killed, with some reports insisting that more than 1,000 have died, and that in some cases, fleeing civilians have been shot. Whole villages are being torched, leaving families with no choice but to flee their land and their homes. When they arrive at the overcrowded refugee camps, they have nothing but the clothes they're standing up in.
Why are the Rohingya Muslims being targeted?
The Rohingya people have been persecuted in Myanmar for decades, denied citizenship and discriminated against as a stateless minority. They cannot vote or travel freely around the country. They are barred from entering certain professions and are not eligible to receive state education.
As a Muslim minority in a mainly Buddhist country, general attitudes to the Rohingya are largely hostile among the general public. On 25th August, a militant Rohingya group attacked police posts in the north of Rakhine State, killing 12 people. The military response has been disproportionate, targeting hundreds of thousands of marginalised and poverty-stricken civilians, including women and children.
We must act now
Without your support, the suffering of the Rohingya people will only grow more and more extreme. The refugee camps both on the border of Myanmar and inside Bangladesh are in desperate need of basic necessities, including food, water and warm blankets for families who have lost everything.
Human Appeal has been mounting an aid effort in Myanmar since December 2016, and we must redouble our efforts if we're going to save lives in this new crisis. For just £65, you can feed a hungry family for a whole month, while £100 will buy an emergency kit that contains food, clean water and medical supplies.
The Rohingya people need us now more than ever. We must answer their prayers in this time of desperation and bloodshed.
You can save a precious life today.
Donate Now