Staff at 13 branches of Barclays in East London have teamed up with one of the UK's leading humanitarian aid organisations, Human Appeal, to raise £10,000 for vulnerable people around the world during the winter months. 
The staff at Barclays managed to raise this amount by selling cakes, savoury foods and biryanis to customers, games such as "guessing the number of sweets in a jar" and many more fun activities. The Green Street branch of Barclays even ventured out to clean shop windows for donations.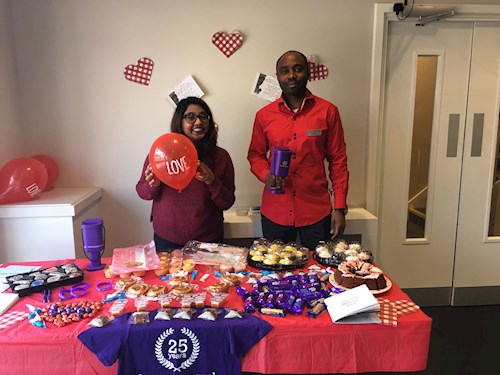 All of the £10,000 goes to help vulnerable people in Syria, Lebanon, Jordan, Palestine, Pakistan and people sleeping on the streets of the United Kingdom, to provide short-term relief during the winter months as part of Human Appeal's winter campaign.
In Syria, Human Appeal helped distribute mattresses, blankets, plastic sheets and clothing to 14,748 people to help overcome the shortage of essential items, especially for people displaced by the conflict which has now been going on for six years. Human Appeal also provided food and winter items to 930 Syrian refugees in Lebanon and 7,200 Syrian refugees in Jordan. Human Appeal also delivered similar to 2,996 people living in poverty in Pakistan.
Barclays also helped Human Appeal provide winter clothing, blankets, adequate shelter to 26,593 Palestinians.
Here in the UK, Barclays helped Human Appeal provide 4,286 rough sleepers in Manchester, Salford and Leicester with hospitality and warm overnight accommodation. 
Also, Barclays HQ in Canary Wharf, are currently raising funds for Human Appeal's work helping people in Myanmar.
The Barclays branches who participated in the fundraising scheme included:
Bow
Bakers Arms
East Ham
Forest Gate
Green Street
Hackney
Leytonstone
Newham
Stratford Market
Poplar
Upton Park
Walthamstow
Whitechapel
Human Appeal CEO, Othman Moqbel said of the partnership "We are so grateful to the wonderful efforts of the Barclays staff across East London who have gone the extra mile to help people in desperate need, whether it's war-torn Syria, drought-ravaged Pakistan or on the streets of the UK, we have worked together to help 56,753 people across the world in desperate need.
"Our partnership just goes to show the wonders that can be achieved when the private sector and the charity sector join together to make the world a better place. For nearly 57,000 people the world is now a better place. We look forward to easing the suffering of hundreds of thousands of more people with Barclays and anyone else desperate to eradicate poverty forever." 
Human Appeal are currently one of the leading organisations providing aid for East Africans struck by famine. Anyone who wants to donate can do so by going to https://humanappeal.org.uk/world-food-crisis/ or ringing 0161 225 0225.