Pakistan, a federal parliamentary republic in South Asia, is one of the most populous countries in the world. It's home to nearly 200 million people and faces a number of complex humanitarian challenges.
In 2013, the World Bank found that 53 million Pakistanis were living below the national poverty line. Economic growth in Pakistan lags behind that of India, Bangladesh and Nepal and is adversely affected by poor performance in the agricultural sector. Agriculture is dependent on an amenable climate and this is intensely problematic for a country so vulnerable to climactic extremes. 3.2 million people in Pakistan are currently in need of humanitarian assistance.                                                                                            
Earthquakes, droughts and floods
Pakistan experiences a disproportionate number of natural disasters. The monsoon floods of February 2015 affected 1.6 million people in more than 4,000 villages. In June 2015, an intense heatwave hit Pakistan. Temperatures in Karachi rose to over 40 degrees Celsius and around 2,000 people died from dehydration and heat stroke. In the northernmost mountain areas of Pakistan, an earthquake in October 2015 claimed more than 200 lives.
Devastating events like this destroy homes, schools, medical facilities and crops, and leaving families hungry and helpless. Pakistan's children live in terror of another natural disaster striking.
Widespread hunger
Food insecurity in Pakistan is a major concern, exacerbated by ongoing security operations and the impact of natural disasters. There are currently 14.7 million pregnant and lactating women and 22.2 million children who are severely undernourished.  
The levels of hunger in Pakistan's poorest regions are shocking. 45% of children grow up stunted in their physical development due to malnutrition. Many live on little more than scraps of bread every day.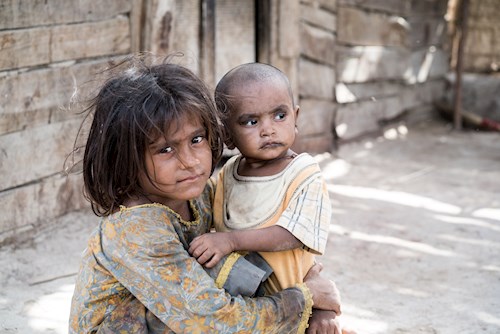 Gender equality in Pakistan
Pakistan ranks 144th out of 145 countries on the Gender Gap Index 2015, meaning that gender inequality is a huge cause for concern among humanitarian agencies and NGOs. According to the United Nations Development Programme, in 2012 18.3% of Pakistani women had reached a secondary level of education compared to 43.1% of Pakistani men. Female participation in the labour market stood at 22.7%, while for men it was 83.3%.  
Equal opportunities for men and women would boost Pakistan's economy, stimulate the labour market and help to eradicate poverty. 
Human Appeal's work in Pakistan
The UN's sustainable development targets for 2030 are consistent with Human Appeal's project goals in Pakistan, including eradicating hunger, promoting gender equality, providing quality education, and improving access to clean water and sanitation facilities.
Through our 2016 winter campaign, we delivered 303 winter kits and 228 food packs to the most vulnerable orphan families in the Rahim Yar Khan and Mansehra districts. This emergency aid allowed some of Pakistan's neediest children to survive the bleakest months of the year. 
We can only continue this work with your help. The generosity of our donors allows us to save lives all over the world, every day. The children of Pakistan need your help. 
Donate Now